I'm back with part 2 of my December empties and today I'm talking you through the haircare products that I used up at the end of 2013! It's so easy to finish a haircare product as they're used so often (pretty much every day) and I'm happy to report back that I would repurchase every single one of the products featured, hooray. What's even better is that all of the products mentioned are so affordable with the cheapest one costing just 99p, so I'd really recommend them whether you're a student on a tight budget or someone who is just looking for some new haircare products to try.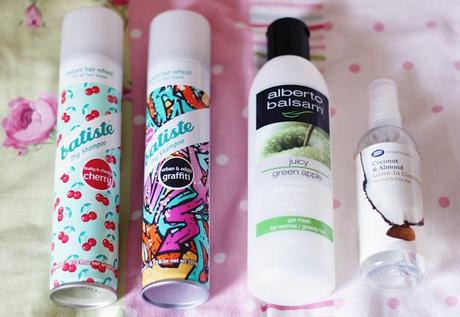 Batiste Dry Shampoo (Cherry & Graffiti*) - I've always been a fan of Batiste Dry Shampoo but gave it a bit of a break because I went through far too many cans and started using the Lush No Drought Dry Shampoo instead. I decided that Batiste would be a lot easier to use when I went on holiday later on in the year and finally used up these 2 cans of the dry shampoo. I still love how clean the dry shampoo leaves my hair looking and will definitely be repurchasing a bottle to keep in my bag as it's so easy to keep oil at bay when you're out and about.
Alberto Balsam Juicy Green Apple Shampoo - This bargain bottle of shampoo has really impressed me and the best thing is that it's only 99p! I'd always been curious about the brand and finally got around to trying it out when my Mum bought this bottle of shampoo for normal/greasy hair. My roots are more on the oily side so I really need a shampoo that thoroughly cleans my hair and this one certainly does the job. I've already purchased the Blueberry version which is made for coloured and damaged hair and I'm enjoying it so far!
Boots Ingredients Coconut & Almond Leave-In-Conditioner - The final hair product that I used up in December was this leave-in-conditioner spray which I've already raved about as it does a great job of smoothing out my hair after I've washed it as it's normally tug central after being up in a towel. This spray smells lovely and is also great to use for smoothing down any frizzy or unruly bits of hair. I've already repurchased 2 bottles of this as it's currently included in a 2 for £2 offer (normal price is £1.39). Bargain or what?