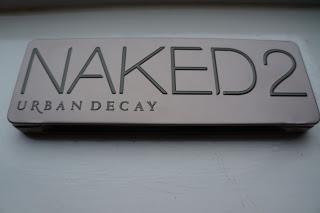 I know that everyone sings the praises of these palettes, and it's true they are really good. They seem to be really expensive, at £35, but once you get the palette you can tell it worth it. The packaging is a beautiful metal tin and inside you'll find twelve decent sized eyeshadows, a full sized brush with a rounded blending brush on one side and a thin contouring brush on the other, as well as a large sized mirror.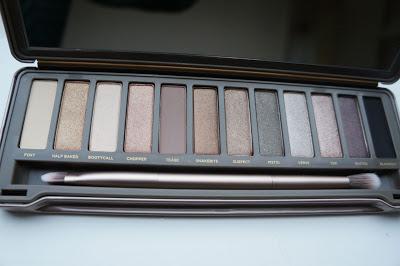 The palette comes with a small Lip Junkie lip gloss too, in the shade 'Naked' which I personally don't like, as I don't really use lip gloss, but the color is pretty, rosy pink with a sparkle to it, so gloss lovers will enjoy it!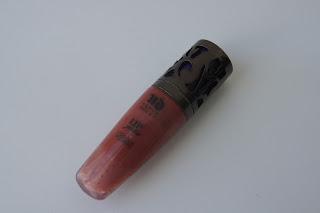 The colours are roughly arranged with the lightest on the left side, moving to the darkest on the right hand side, which I like because it's logical, I hate palette's where I can't understand the ordering of the colours.
There are three matte shades, Foxy, Tease and Blackout. And the rest are metallic shades, with Chopper being metallic with glitter.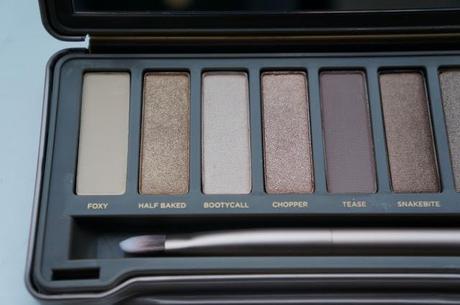 Foxy: Creamy beige color with matte finish.Half Baked: Golden bronze shade with metallic finish.Bootycall: Peach/Beige with a metallic finish.Chopper: Coppery metallic shade with silver glitter.Tease: Taupe shade with matte finish.Snakebite: Darker bronze shade with metallic finish.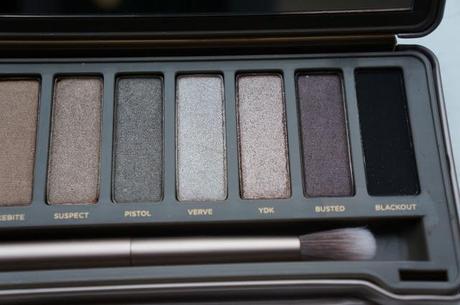 Suspect: Golden beige shade with metallic finish.
Pistol: Darker grey/brown shade with metallic finish.
Verve: Pale silvery beige metallic shade.
YDK: Bronze color with metallic finish.
Busted: Deep brown with metallic finish.
Blackout: Dark black with a matte finish.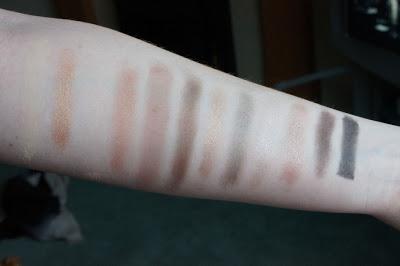 Here are some swatches of the colours on my arm, in the same order of the palette - you can see how nicely Suspect and YDK come out when you apply them. But unfortunately due to my extreme paleness you can't really appreciate Foxy and Bootycall here!
 Blackout, the matte black colour, is really good if you use a slanted brush and wet the brush first, applying it as you would eyeliner to your upper lids. I actually find it lasts longer than using a kohl pencil, but not as long liquid eyeliner. It's perfect for a lighter daytime look!
My favorite shades in this palette are Bootycall, Chopper, Suspect and Blackout! All of the eyeshadows have really good pigmentation and last for a really long time, they apply easily and the color doesn't fade. This is a must-have palette for lovers of neutral eyes, but I would say if you have the original Naked palette, you probably don't need the Naked 2.