I was absolutely gutted to be unable to watch The Oscars in real time this year - unfortunately I spent the weekend at my Dad's and he doesn't have Sky Movies. I did however manage to watch the red carpet and have since seen most of the awards ceremony online.
Firstly, I think it's absolutely brilliant that Seth MacFarlane hosted - the past few years people have complained that the ceremony is a little dull, and you certainly can't say that this year. With his controversial humour, Seth definitely drew in younger audiences and kept the evening shocking and exciting. Plus he has an absolutely amazing voice, and I know I can't be the only one who practically swooned when he performed 'High Hopes' with Joseph Gordon-Levitt and Daniel Radcliffe!
I was really pleased with the results this year, I thought they were all well-deserved. Particularly Ang Lee for Best Director - Life of Pi is a visual masterpiece and whilst he might not have been the most popular nominee I was rooting for him. Also Jennifer Lawrence for Best Actress- Silver Linings Playbook was probably the best film I saw last year, and her performance was amazing, as was Bradley Cooper, and even though he didn't win Best Actor, I feel confident that the quality of Jennifer Lawrence's performance was partly due to the onscreen chemistry her and Bradley Cooper had.
Another thing about the Oscars which  is really great and exciting is the clothes! The tuxes, the dresses, the hairstyles!
First off, my favorite dresses of the night: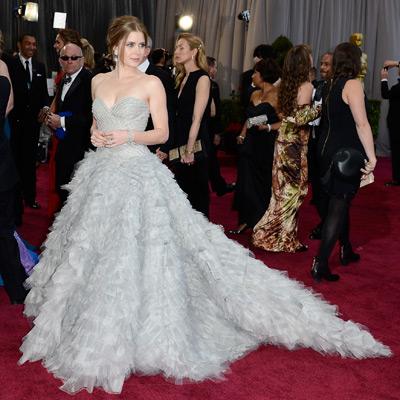 Amy Adams in Oscar de la Renta
This dove-grey ballgown is so pretty! I normally don't like fuller skirts, but with the simple bustier this one works. It's a color you don't often see on the red carpet but I think it really compliments Amy's pale complexion. She has kept her jewelry nice and simple too which is better with a full dress like this, loads of showy jewelry would be too much.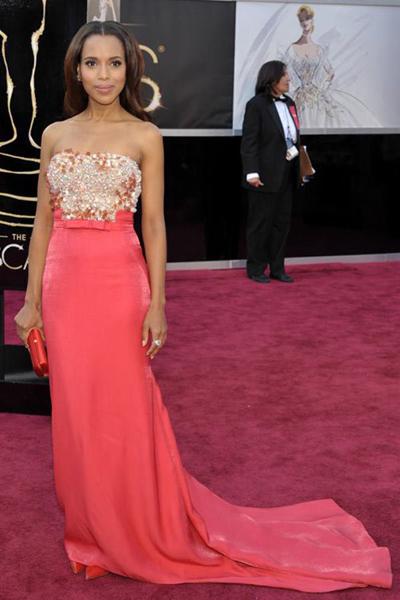 Kerry Washington in Miu Miu
This coral coloured gown with a crystal bodice is absolutely beautiful. It's one of the more summery, bold color choices of the evening and it looks amazing. She kept her long hair simple, and off her shoulders to show off the bodice too, and avoided a necklace to draw the attention to the dress.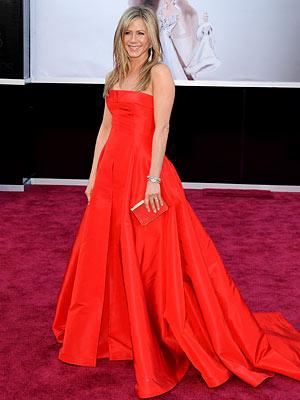 Jennifer Aniston in Valentino
It's so nice to see Jennifer in a bold colour, we're all so used to seeing her rock the LBD. This dress might be really simple, but the fit is perfect (take notes Kristen Stewart's stylist - her dress didn't fit at all) and the color really works on her, she's practically glowing. I hope to see her making some more bolder style choices in the future.
My favorite hair styles: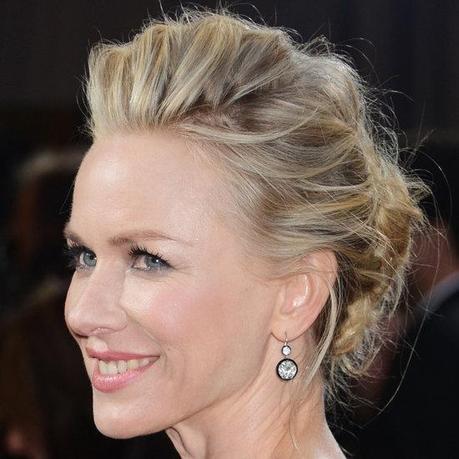 Naomi Watts
She looks absolutely stunning! I love messy up-dos and this was my favorite of the night. It's the perfect balance, not pulled too tight but not so loose that there's bits of hair flying everywhere. This is definitely the kind of hair style I take to the hair dressers when I'm going to a special occassion. Beatiful!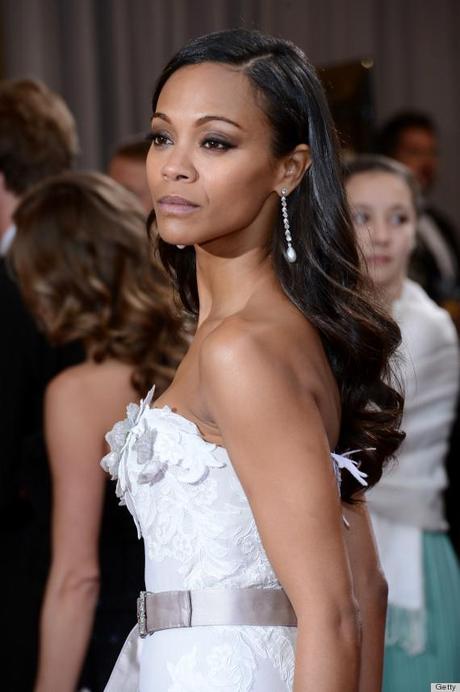 Zoe Saldana
She looked fierce! You definitely can't go wrong with a side parting and neutral make-up. The loose curls at the ends of her hair as well are gorgeous, if my hair was this long I'd wear it like this everyday! I noticed a lot of stars opting for hair down and neutral make-up which makes a change from the statement hair and makeup I expect from events such as this.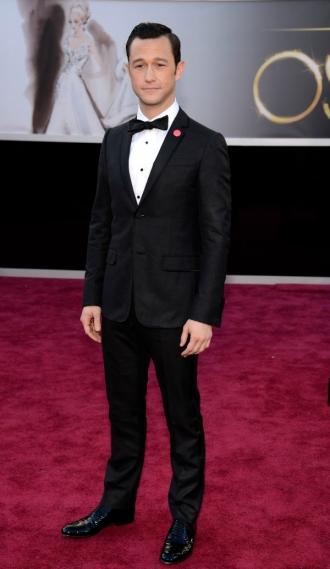 Joseph Gordon-Levitt
Lots of men were sporting a side parting and slicked back hair, which I think is great, its classic and classy. My favorite was probably JGL, he looked very dapper, and his hair didn't look too greasy either. His tux is well-fitted as well, it drives me mad when I see men on the red carpet with suits that don't fit (I'm looking at you, Jack Nicholson).
All in all, I think the Oscars were great this year. I think whoever hosts it there will be complaints about it, and sometimes I do agree, but this year I think it was just right - entertaining and fun whilst retaining the air of prestige that always comes with these awards.
What did you think of the Oscars?