Monday May 16, 2016
Trivia Answer: I
saac From the Love Boat, Sam & Woody from Cheers , Steve From Sex and the City, & Moe from The Simpsons what do these guys all have in common? They were all BARTENDERS!!! First Fives:James Gabriele, Elke Raskob, Mike O'Dea, Bobby Aguilera & Dan Realson
Honorable Mention: Caryn Vitolo
THE NUMBERS Thursday's Broadcast Top 5


Big Bang Theory Finale-CBS 3.4/14.7




Grey's Anatomy-ABC 2.1/7.7




Mom-CBS 1.8/8.3




Scandal Finale-ABC 1.8/6.6




2 Broke Girls Finale-CBS 1.7/6.9



Thursday's Cable Top 5


NBA Playoffs-ESPN 2.1/5.2




American Dad-Adult Swim 1.0/1.6




Liga Mixed Martial-Univision .7/1.4




60 Days In-A&E .7/1.6




WWE-USA .7/2.2


Thursday's Social Media Top 5


Scandal-ABC 94,000 Tweets




Grey's Anatomy-ABC 78,000 Tweets




WWE Smackdown-USA 34,000 Tweets




The 100-CW 26,000 Tweets




At Midnight-Comedy Central 22,000 Tweets 


Late Night Ratings for the Week of 5/2/16-5/6/16


Fallon.8/3.2




Colbert .5/2.1




Kimmel.4/2.1




Seth .4/1.4




James Corden .3/1.2




Trevor .3/.8




Carson .2/.8




Larry .2/.5




Conan .2/.4


THE SHOWS


Game of Thrones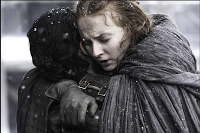 2 juicy bookend moments with a bunch of boring stuff in the middle is how I'd sum up last nights episode of GOT. First bookend: Sansa and Jon Snow reunite, reminisce and talk soup before plotting their return to Winterfell. Boring middle stuff: The return of Baylish and that freak, Robin, Tyrion negotiating, Daario busting Jorah's [email protected] about sleeping with Dani during their rescue mission, the sparrow dude let Marjorie see her bro who wasn't looking so good, Cersei's hair's slowly growing back and now she's joining forces with Marjorie's Mom, Reek/Theon returned to his sister's place but she wasn't THAT happy to see him. Second bookend moment: Dani set the Dothraki dudes on fire and presented her naked fireproof self to their disciples. They all bowed down to her. Now she has them to add to the rest of the rest of her army. I'd bow down to her too, she's HOT, fireproof, and she's the mother of dragons!  Bonus for Jorah, I'm sure he didn't expect to see the woman he loves and worships naked after the big rescue. I'd say a naked Khaleesi is much better than any thank you note she could have ever sent him. 
Outlander
It had to totally suck being pregnant back in France in the mid 1700's. All that fabric. I remember when I was pregnant and could barely carry my lunch to work, I can't imagine carrying the huge heavy dress all day long, especially in the hot Summer months. Had to be tough. Then again, everything back then seemed tough to me. Jamie was looking good. The hair, the puffy shirt, it was all working for him. He promised Claire he'd let Jack Randall live a year so that Frank would one day exist, so Claire could relax for a minute. Jamie finally told Murtagh the truth about Claire being from the future and he seemed to believe the crazy story. Jamie and Murtagh stole the Prince's booze so he wouldn't have enough dough to blow out the Jack O Bites but then Murtagh had to head to Portugal to lay low. Of course we knew things couldn't be fine for long. Jamie ended up in the woods dueling Blackjack Randall. The duel was going well until Claire showed up bleeding from her Vajayjay. Ironically, Jamie got Blackjack in his Peejajay right at the same time. Two key people in Jamie's life bleeding from their private parts at the exact same time. Unfortunately Jamie couldn't help Claire while she was bleeding out because of course, he was under arrest. Not sure what Blackjack's "injury" means for Frank's pending existence. I've never been good with time travel stuff. Guessing unless he has super evil crazy sperm he can't get anyone pregnant now though so there'd have to be some miracle or a crazy plot twist for Frank to be born now. 
A few discoveries over the weekend. The first one is a very cute and interesting little web series on YouTube called The Benefits of Gusbandry. Right now there are only 6 episodes up and all of them are between 8-14 minutes long. You can catch up in under an hour I think. I'd describe this show as a more honest, real and updated Will & Grace. I've never seen either one of the lead actors in anything before but I immediately fell in love with both of them. Brooke Totman plays Jackie. She's single, has awesome hair and really loves her weed. She meets River at her own 40th birthday party and of course doesn't realize he's gay until they're out on what she thinks is a first date. River's played by Kurt Conroyd. He's adorable and I don't usually go for the bearded dudes. River's a super smart attorney who really gets weird when he smokes weed. He and Jackie become instant besties who snuggle in the same bed and eat ice cream together. There's real chemistry between these two just not the sexual kind.  Next hidden gem is a show on Hulu called Being Erica. The shows started in 2009 and is still currently on the air in Canada. It reminds me of that show Hindsight on VH1 that we all loved. Remember that one, it got cancelled after only 1 season. Erica is super cute, in her early 30's and nothing is going right. No job, no boyfriend, not even sure what she wants to do with her life. She hooks up with a magical therapist who gives her the opportunity to go back and relive some of the major turning points in her life where she believes she made the wrong decision. I'm only 4 eps in but I'm hooked.  This last one is a SHOCKER to me and maybe to all of you, too. Chelsea Handler's new Netflix talk show is…good! It really is and I don't even like Chelsea Handler. I wonder if all those MALE NETWORK EXECS who were afraid to take a shot on Chelsea and Samantha Bee in late night are kicking themselves right now. Both women are shaking up the formats and doing an amazing job. I never watched Chelsea's E! show, so no idea if her new show is different than her old one, all I know is that I like the new show. Her dog is roaming around, she starts the show with a hybrid type of monolog that she refuses to call a monologue, she has her guests at her home for dinner parties and fun conversation. In the first 3 shows she's had on Pitbull  and the Secretary of Education, a comic book tutor to prep her for her dinner with the Captain America cast, Drew Barrymore & Gwyneth Paltrow. For some reason this go around, I like Chelsea's honesty and don't feel her anger as much. Maybe I always felt her anger because she was always pissed at her network bosses for handcuffing her a bit? Not sure, I just know that so far, I like her show. The Wednesday, Thursday, Friday thing is weird. I didn't watch it like that, I binged all 3 in a row. 
Also of note…The Alaskan Bush people schlepped a non working jeep across the icy Alaskan waters and got a new skiff out of the deal, Season 2 of Grace & Frankie was better than Season 1, Jane Fonda's incredible. I'm obsessed with the new Keith Urban album, Drake hosted SNL this weekend and was way better hosting than singing and I haven't been writing about The Americans, but this season happens to be the best. 
THE OTHER STUFF The Kelly Section
Did anyone DVR or watch Michael Strahan's last day on Friday? I'd say it was done pretty well. Some clips of all the fun he and Kelly have had over the past 4 years. Matt Bomer stopped by to wish Michael well, then more clips, and finally some gifts for Michael to put in his GMA dressing room a champagne toast, a thank you's and some final thoughts. The only thing that was missing was Michael's thank you to Kelly. It was done AFTER the show aired and posted on Facebook but it wasn't part of the live show. A bit weak but all in all it was a fitting send off. I am wondering if Michael will EVER be back to fill in for his predecesor. My money says NO! Money says we'll only see him on GMA, 20,000 Pyramid, Sunday football and commericals for his clothing line but never again on Live. Tomorrow is the beginning of the rotating co-hosts. I don't think any of these guys are real contenders, but we'll see, won't we. Here's the lineup: 
Monday-Jimmy Kimmel
Tuesday- Jussie Smollett
Wednesday-Cedric the Entertainer
Thursday-David Muir
Friday-Daniel Dae Kim
All the 2016 Cancellations 
ABC: Castle, Galavant, Nashville, The Family, Of Kings and Prophets, The Muppets & Wicked City
CBS: Angel From Hell, CSI Cyber, The Good Wife, Mike & Molly & Person of Interest
CW: America's Next Topp Model, Beauty & the Beast & Containment
FOX: Bordertown, Cooper Barrett's Guide to Surviving Life, Grandfathered, The Grinder, Minority Report & Second Chance
NBC: Best Time Ever with Neil Patrick Harris, Crowded, Game of Silence, Mysteries of Laura, Heartbeat, Telenovela & Undateable
NBC Upfront this morning at 11am but here's the Fall Line-up:
Monday: The Voice & Timeless
Tuesday: The Voice,

This is Us,

Chicago Fire
Wednesday: Blindspot, Law & Order SVU & Chicago PD
Thursday: Superstore, The Good Place, Chicago Med & The Blacklist
Friday: Caught on Camera with Nick Cannon, Grimm & Dateline
Saturday: Dateline & SNL Vintage
Sunday: Sunday Night Football 
I'm live tweeting from the NBC Upfront today for Ad Age. It's my first time doing it. The hashtag, in case you want to follow me is #aaupfronts.
Monday's Trivia Question: . Rory Gilmore, Serena Vanderwoodsen, Joan Girardi & Betty Suarez all starred in this movie together. 
WWTM-Kristy
Like me on Facebook at Watching Way Too Much
Follow me on Twitter at tvnme
http://watchingwaytoomuch.com