I guess I should start by apologising for not having updated you about how i'm doing, the truth is it's just slipped my mind.
Week 5
I think this was the week that I had trip to Preston, and I did spend £3.49 in Boots on some night cream, but that is the only thing I spent that I wasn't allowed to spend. I did spend on an over indulgent meal at pizza hut, but it's one of those things that you just do. We had a really fun trip and I had my first ever visit to Hobbycraft! I loved it in there, it was like putting me in a sweet shop or Toys R Us, it was just so much fun and I had to touch everything.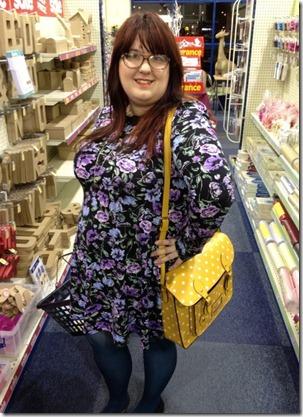 Me in Hobbycraft wearing the ASOS dress which I bought during week 4.
Week 1 - £12.98
Week 2 - £12.50
Week 3 - £10.24
Week 4 - £21
Week 5 - £3.49
Total - £ 60.21
Week 6
This is the week where I didn't spend a single penny on me because I was busy buying birthday presents and gifts for the Valentine's swap which I took part in. I didn't miss not receiving anything for the money spent, but I still got to enjoy spending money. I do enjoy the thrill I get from spending money. However I did choose to spend the gift card i'd got as a Christmas present from one of my wonderful friends and I treated myself to my first ever MAC lipstick, and i'm looking forward to buying more once I'm allowed too.
Week 1 - £12.98
Week 2 - £12.50
Week 3 - £10.24
Week 4 - £21
Week 5 - £3.49
Week 6 - £0.00
Total - £ 60.21
Week 7
I had a few days off work ill this week and when I woke up on Wednesday morning I found an inbox full of emails due to spending money online, I'd placed an order with Yves Rocher taking advantage of a special offer which had been emailed to me. I don't remember placing the order but I was practical with it, I bought some make up removal wipes, nail varnish remover, and a face mask for £13.40 including postage and I also got a free gift of a 50ml bottle of perfume.
Week 1 - £12.98
Week 2 - £12.50
Week 3 - £10.24
Week 4 - £21
Week 5 - £3.49
Week 6 - £0.00
Week 7 - £13.40
Total - £ 73.61
I'm hoping that this week can be like week 6 where I don't spend any money on me.
Tink x