Spend enough time on Pinterest and you'll eventually start to feel the urge to remodel your bathroom. Staring at pictures of sleek modern designs with floating vanities and glass enclosed showers would drive anyone to the nearest hardware store! Unfortunately not all of us have the budget for a complete remodel. But don't worry, you can still change the look of your bathroom without remodeling. The Philadelphia Sun recently put together a list of tips to get a whole new look in the bathroom, for less.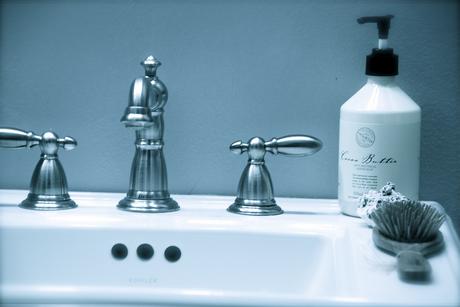 One of the first things you can do to update your bathroom is to replace the sink faucets. Some people never pay attention to them but they should. A faucet like a stylish hand bag or attractive pair of heels. It may not be the biggest piece of your outfit, but it adds a lot. Therefore just swapping out your out of date faucets with something more contemporary is very beneficial. Designs come in every style imaginable so you're sure to find something to match your bathroom. Whether you like modern, rustic, or modern-rustic.
Nothing is quite as effective as color to make a space feel completely new and refreshing. It's also a fast and budget-friendly way to update your bathroom. You can repaint your bathroom yourself so you don't need to hire a professional. Cool and neutral tones are popular choices because they create a sense of calm and tranquility. But if that doesn't sound like your style, bold or warm colors are a great way to make a space feel exciting and energizing.