I don't know about where you're living, but here in New York, this has been the LONGEST winter I can remember! This denim scarf has been a happy addition to my many, many layers. If you've got a worn out pair of jeans, repurpose this into a modern accessory by adding some cozy fleece and a few snaps!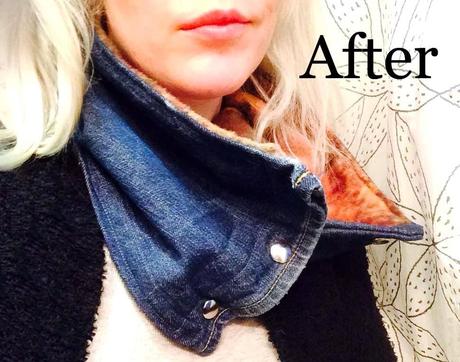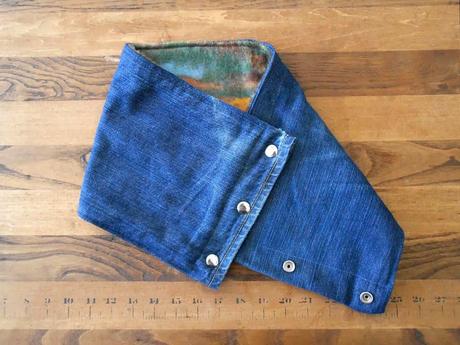 Materials:
-old jeans
-1 yd fleece (or flannel)
-3 snaps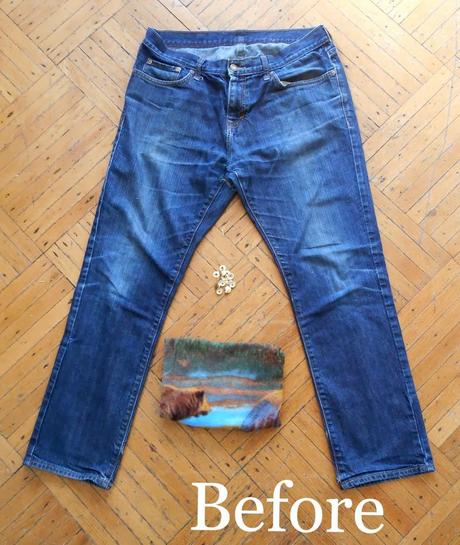 Step 1: From the bottom hem measure up 28" and cut.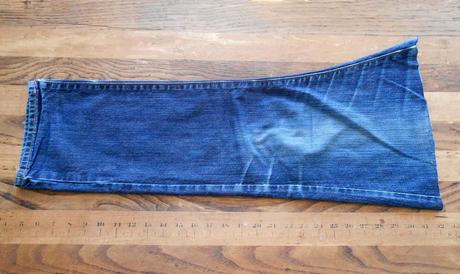 Step 2: The top it will flare out, but for our purposes we need the pant leg straight. Place a ruler on the straight seam extending on the flared area and mark with tailor chalk.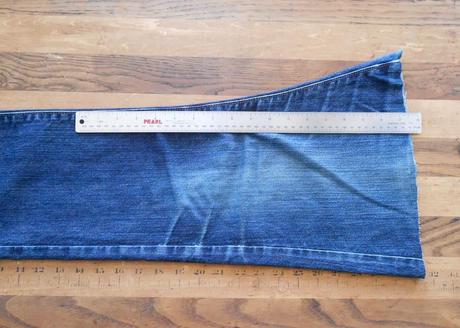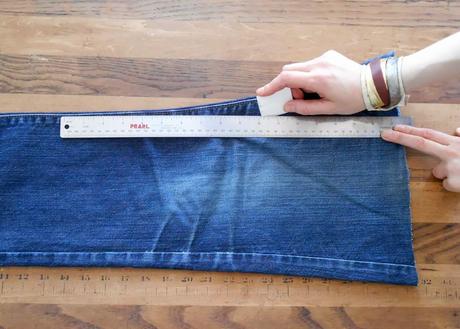 Step 3: Cut straight across a 1/2" above the chalk line.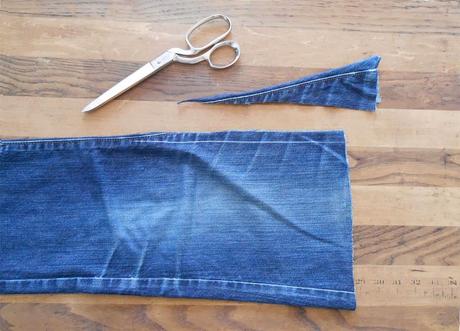 Step 4: Flip the pant leg inside out and stitch 1/2" down from the cut edge.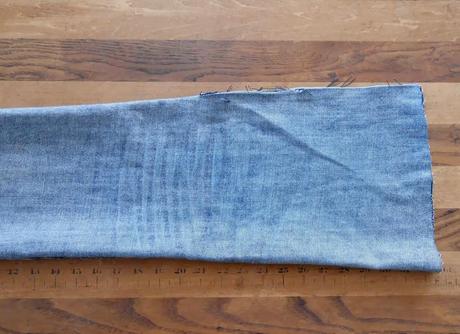 5: Follow by stitching the top of the pant leg closed.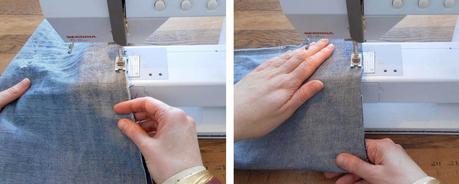 When you're done, flip right side out again.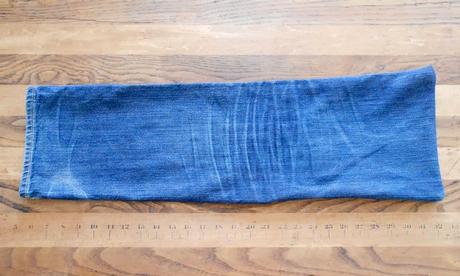 Step 6: Lay your piece of fleece out flat... (The bears? I know, they're amazing! Thank you, Etsy!)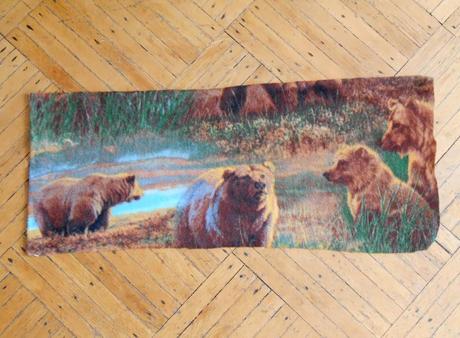 ...and place the pant leg over top of it.
Step 7: Cut the fleece so that it is the same length as the pant leg, and same width plus 1".

Step 8: Fold back 1/2" allowance on the fleece and pin to the bad side of the jeans.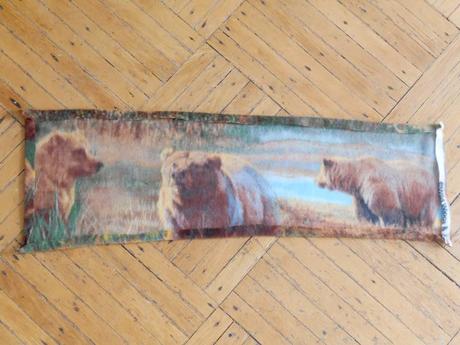 Step 9: Pin the bad sides of the fleece and pant leg together.
(The extra denim you see on the left and sides is where the snaps will be placed. You'll need at least 1/2" on each side, but you can fold back as much as an 1" if you'd like.)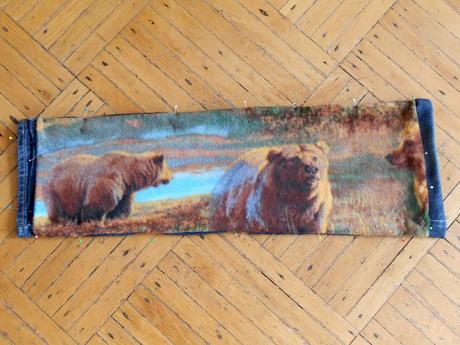 Step 10: Stitch around all sides to secure the denim to the fleece.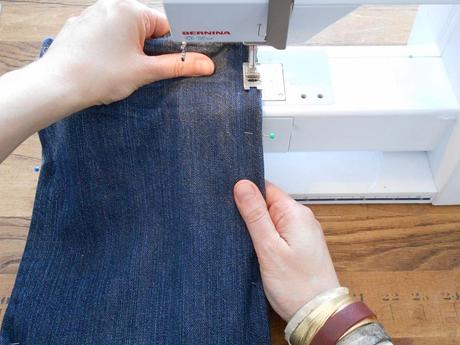 Step 11: Finish by stitching closed the bottom of the pant leg, near the hem.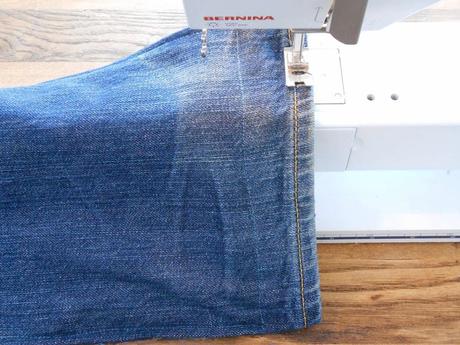 When you've finished sewing it will look like this: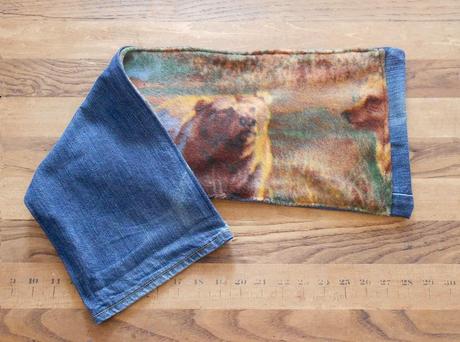 Step 12: Lastly, Add the closures by marking the placement for the snaps on each end and setting them with a pedestal and snap setter.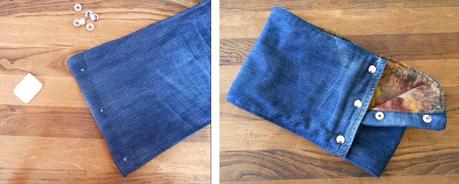 Ta-da! It's a scarf!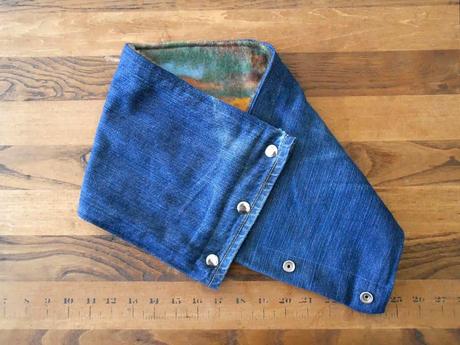 *Please remember that textiles are not trash! With what's left over from the jeans, you can turn into new cutoffs, make another scarf for a friend or even split the seams to upcycle the fabric for other projects. If you still have that desire to kick the remnants to the curb, try to find a textile recycling program in your area. They'll be happy to take these and  any other fabric scraps you're looking to ditch.
++Warm thoughts+++

TOOLS
*scissors
*ruler
*tailor's chalk
*pins
*sewing machine or needle and thread