Summary: Connor, Risa, and Lev are running for their lives.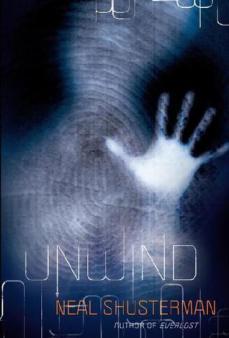 The Second Civil War was fought over reproductive rights.  The chilling resolution: Life is inviolable from the moment of conception until age thirteen.  Between the ages of thirteen and eighteen, however, parents can have their child "unwound," whereby all of the child's organs are transplanted into different donors, so life doesn't technically end.  Connor is too difficult for his parents to control.  Risa, a ward of the state is not enough to be kept alive.  And Lev is a tithe, a child conceived and raised to be unwound.  Together, they may have a chance to escape and to survive.
In my YA II class at school we're doing genre studies. The first genre we are doing is Science Fiction. The cool thing about this class is that we get to choose from a few different books. I chose Unwind because it sounded like a fresh topic and a lot of books these days seem to be much too similar.
From the very beginning of the book I was annoyed. The point of view changes throughout the whole story, but never in first person. Why even bother changing from person to person if you don't even get to read the story from their actual perspective? The other girls I discussed this book with agreed with this as well.
Things that impress me in a book are when they can emotionally affect me. The last couple chapters stuck with me well after I had finished reading it. One chapter in particular made me sick to my stomach. This book can also be classified and dystopian and most dystopian make my mind reel. That trend did not stop here. I've yet to read of a dystopic world that has made positive advancements in humanity. The things that the world has come to in Unwind makes me want to drop to my knees and pray for our futures. It frightens me just imagining being in the positions that these charters are in.
Even though the POV situation bothered me throughout the whole book, I still would give this book a high rating and recommend it to many people. Both guys and girls alike will enjoy this read and there are many twist and turns that will keep you turning the page.