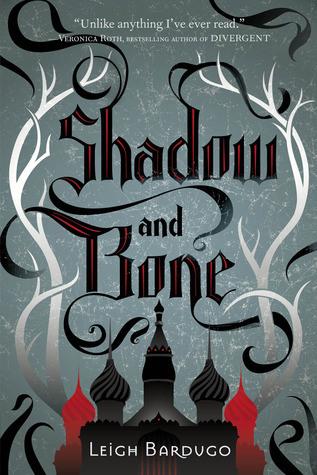 The Shadow Fold, a swathe of impenetrable darkness, crawling with monsters that feast on human flesh, is slowly destroying the once-great nation of Ravka.
Alina, a pale, lonely orphan, discovers a unique power that thrusts her into the lavish world of the kingdom's magical elite—the Grisha. Could she be the key to unravelling the dark fabric of the Shadow Fold and setting Ravka free?
The Darkling, a creature of seductive charm and terrifying power, leader of the Grisha. If Alina is to fulfill her destiny, she must discover how to unlock her gift and face up to her dangerous attraction to him.
But what of Mal, Alina's childhood best friend? As Alina contemplates her dazzling new future, why can't she ever quite forget him?
Glorious. Epic. Irresistible. Romance.
I read Shadow and Bone for the fantasy unit in my YA II class. I've never read a fantasy book so I was pretty hesitant with reading this book. It actually took my a couple weeks longer to finish than everyone else but when I did finish it, it was because I couldn't stop reading it and not because I had to.
I think that the number one thing that bothered me about this book is the made up words. Since it's a made up world with magic and what-not I understand that the words aren't going to be real but I would at least like to be able to pronounce the names. I had to mumble through almost every made up word because it wasn't even worth it to try to sound it out. I also was never really able to sort through all the different social classes that the book had. Through most of the book I found myself just reading it to get it over with and never really trying to understand it.
I started to really like Shadow and Bone at the end when it turned into a love story. I won't say who the love interest is between because I guess it could kind of ruin the story even though some people might find it kind of obvious. There were so many scenes that I kept re-reading because it was as beautiful as any other love story and for a minute I could enjoy the book without the whole fantasy side of it.
Overall I did like this book. Even though it's never something I would've picked out for myself I think others would really enjoy it. It ended in a way that I don't feel compelled to read the rest of the series which in a way made me happy. You can only handle so many cliff hangers.