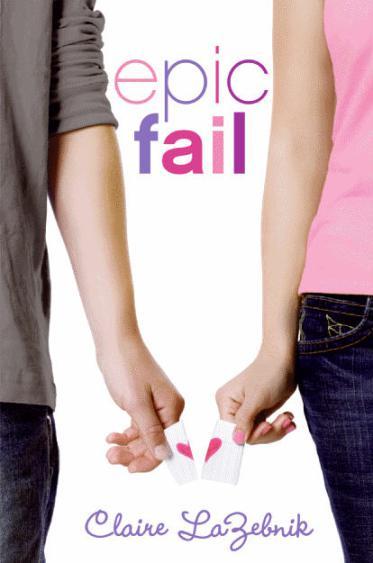 Summary: At Coral Tree Prep in Los Angeles, who your parents are can make or break you. Case in point:
- As the son of Hollywood royalty, Derek Edwards is pretty much prince of the school–not that he deigns to acknowledge many of his loyal subjects.
- As the daughter of the new principal, Elise Benton isn't exactly on everyone's must-sit-next-to-at-lunch list.
When Elise's beautiful sister catches the eye of the prince's best friend, Elise gets to spend a lot of time with Derek, making her the envy of every girl on campus. Except she refuses to fall for any of his rare smiles and instead warms up to his enemy, the surprisingly charming social outcast Webster Grant. But in this hilarious tale of fitting in and flirting, not all snubs are undeserved, not all celebrity brats are bratty, and pride and prejudice can get in the way of true love for only so long.
When I first saw the book the book Epic Fail I was kind of hesitant. The cover looks a little cheesy so I didn't know what I would think. Let me say that I am so glad I decided to read it! Immediately after finishing it I wanted to keep reading more about Elise and Derek! (Quick note: I really don't understand why they chose this for the title of the book. I wish they would've done a cute twist on the title Pride and Prejudice or at least something that explained the book a little better. I just didn't find it very fitting.)
Epic Fail is a classic-retelling of Pride and Prejudice. I haven't read that book but I've seen the movie so I was able to make the comparison between all the characters. Claire Lazebnik did a great job of recreating modern versions of the characters in Pride and Prejudice. I was so annoyed by Elise's mom and sisters throughout the book but that is exactly how it is in Pride and Prejudice, so I guess that goal was accomplished very nicely.
Derek is a complete jerk at first and I really don't understand why all the girls were obsessed with him. The whole time I pictured him as Edward Cullen from Twilight. So quiet and mysterious. But he wasn't even just that. Girls would be all over him and he'd be straight up rude to them so honestly I don't get why they all were so attracted to him (besides the obvious: his parents being famous). But once he started trying to open up to Elise and try to win her over, he really won me over. He was a really great character and I loved that he chose Elise to go after instead of all the cliché popular girls.
Elise was a really good character too but sometimes she's just too much. She's so doubtful and way to proud (ha ha). Derek will be sincere with her or say one thing wrong and she's just done. Like I already mentioned her family kind of drives me crazy. Her older sister, Juliana, is likeable because she is so sweet and caring but I swear her younger sisters were not brought up in the same household. They're crazy and embarrassing and have no common sense. While their mother is crazy, she still is a little bit smarter than they are.
This book, while a little predictable, was a delightfully good read. It was a quick read filled with humor and romance and will satisfy any girl's love for a love story. I wouldn't recommend this book to a boy who was interested in reading for fun but I think some guys could appreciate the parallels to Pride and Prejudice.