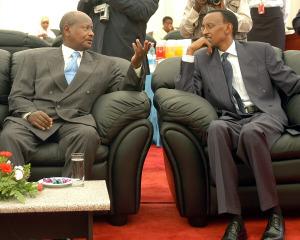 Joweri Museveni and Paul Kagame
On 20th and 21st October 2014, London is hosting the Global African Investment Summit. Presidents Paul Kagame of Rwanda and Joweri Museveni of Uganda are among the heads of states who will be attending. It is an undeniable fact that Africa requires a lot of capital from external investors for its development.
However, the undersigned organisations of the Great Lakes region of Africa would like to express their deep concern and disdain for seeing that these two African leaders are invited and will be eventually entertained by London authorities represented by Lord Mayor Fiona Woolf and their other hosts.
Considered the seriousness of the well documented crimes they have committed for the last three decades subsequently in Uganda, Rwanda, Democratic Republic of Congo and Burundi, they belong to prison, not among law abiding citizens and respectful of other human beings.
Among the many evidences of their numerous crimes are those listed in the UN Mapping Report published in October 2010 and or highlighted in the BBC TWO Rwanda Untold Story shown on British television on October 1st, 2014 .
Kagame and Museveni should not, in normal circumstances of valuing life, be allowed to travel free.  Their more than 8 million victims so far but including those continuing to float on Rwandan rivers and lakes are as valuable as you and me.
The two leaders have been hailed as the new breed of African leaders and praised for economic success. But their citizens contemplate and experience a different story:
They are victims of institutionalized abuse of all fundamental rights;
They suffer from these leaders' bad governance characterized by periodically rigged electoral processes;
For the majority of Rwandan and Ugandan populations, oppression from security and justice structures is part of everyday life
Kagame and Museveni's military adventures have killed millions of innocent civilians, facilitated the rape of hundred of thousands women and girls, particularly in the Democratic Republic of Congo, this as a strategy of war to access minerals;
The two leaders have, at the sound of guns and with the use of rape, displaced millions from their traditional villages, thus destroying their way of life.
We consider that Kagame and Museveni should be treated as any other terrorists at the UK borders instead of being welcome, or their oppressive regime supported. Such treatment is deserved for the mentioned reasons. While these two presidents continue holding office in their respective countries, we would like
to demand a political will from UK authorities not to allow them in the country the same way they deal with other foreign dangerous personalities
that UK put pressure on dictatorial regimes of the Great Lake region including Rwanda, Uganda  and Democratic Republic of Congo to initiate serious political changes
that ethnic cleansing operated by Kagame and Museveni aimed at destroying other communities except their Hima/Tutsi be stopped
that policies of looting and plundering resources, destroying citizens' properties, and dispossessing massively as a way of governance be put to an end in Rwanda and Uganda
We call upon the understanding of the UK authorities that in order to end the suffering of Rwandans and Ugandans and other citizens of the Great Lakes region, particularly Congolese, who continue to be victims of Kagame and Museveni's policies and military ventures, every help is needed.
Organisations:
Association of Rwandans survivors of genocide and massacres in UK.
Global Campaign for Rwandans' Human Rights
Action for Justice for Rwandan Victims of Massacres in Congo
Rwandan Refugee Community organisation in UK – Umubano
Great Lakes Human Rights Links – UK
FDU – Inkingi – UK Branch
RNC – Ihuriro Nyarwanda – UK Branch
Organising for Africa
Uganda Concern
Uganda United Freedom Front
Contacts:
Ambrose Nzeyimana – 07982114446 – [email protected]
Christopher Lakony – 07943430430 – [email protected]