The Hollywood version is in the pre-release buzz stage.  The anticipation is abetted by the Tumblr and Twitter accounts named 'Mouth Taped Shut' (#mouthtapedshut) that announces, posts and distributes sneak previews, behind the scene photos and videos, article links and esoteric hints of things to come with a duly dark and hackeresque flavor.  One promotional thread breaks the fourth wall, inviting fans into the narrative by giving them clues to find artifacts from the story hidden in the real world.   Tweets and Tumblr posts have fans searching different locations across the country for one of the 40 framed dried flowers belonging to Henrik Vanger that opened The Girl with the Dragon Tattoo and set the context for the unfolding mystery surrounding his niece's murder.
Buzz is swell, but no book or movie becomes a hit without a powerful story and compelling characters.  People have expressed strong reactions to the Millennium trilogy, ranging from viewing it as an exercise in misogyny to seeing Lisbeth Salander as a feminist vigilante.   Larsson's primary themes about violence against women and institutional corruption are powerful.  But it is a mistake to view Salander, who is herself a victim of abuse, as reactive, sociopathic, or even 'broken.'  My contribution to the anthology draws on positive psychology and the shift in perspective that comes when we move from a preoccupation with deficits to that of strengths, in this case, the development of resilience.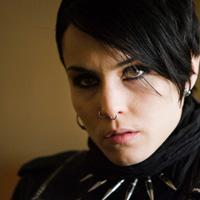 We need heroes to win; it helps us believe we can survive, too.
Salander is the poster child for resilience.  It may not be initially apparent because her personality displays like a Doctor Doolittle pushmi-pullyou.  While her social hostilities are distancing, her strengths, intellectual abilities, determination, and courage engender admiration – even before you find out her history.   As Salander's backstory unfolds, however, we learn about a childhood of extraordinary adversity, even by the standards of the most dysfunctional families.   By 15 years of age, the erratic appearances from her father and family instability were the least of her problems.  Salander's mother was permanently brain damaged from domestic abuse, her twin sister had checked out, and Salander had been victim of political intrigue surrounding Russian spies, illegal activities, and secret plots by even more secret police, that resulted in her incarceration in a psychiatric hospital drugged and physically restrained.  It makes Kafka's The Trial seems like more fun.  It also makes me marvel at the resilience her character displays.
In spite of such inauspicious beginnings, Salander continues to build on the resources and sense of self-efficacy that fuel resilience.  She arms herself with new weapons both physically and mentally.  She learns to fight and she masters the technical skills of cyberhacking.  She also resists the common temptation to assume fault or self-identify as a victim (Summit, 1983).   While her personal style wasn't very social, we can conceptualize the social barriers she puts up as psychic protection and a way to maintain strength and determination.  She was prickly, but she wasn't passive.  We can even argue that her tattoos (and **mini spoiler alert** her choice of breast implants at the beginning of book 2 The Girl Who Played with Fire), were a way of claiming her own body — especially important given the lack of legal and physical control she has endured.
Certainly, the character of Lisbeth Salander challenges our concept of social norms.  She wears body armor inside and out, from body piercings and Goth garb to a conversational style that elevates hostile brevity to an art form   Whatever shortcomings we perceive in her social skills to be, however, are offset by her expertise as a cyberhacker that we, as a society, have come to both fear and revere.
Throughout the trilogy, however, Salander's character demonstrates resilience, combining her perseverance with her abilities to accomplish her goals.  She remains undaunted in her belief of her self-efficacy –  her ability to act effectively on the environment — from her efforts as a young child to protect her mother from her brutal father's violent attacks to her actions as an adult to disempower her sexually sadistic legal Guardian Nils Bjurman.  If she fails in fully achieving her goals, she waits for the next time.  She doesn't give up.
While we might not readily ascribe the word "virtue" to the violent approaches that Salander chooses, perseverance and determination in spite of danger are described by Peterson and Seligman (2004) as part of the universal virtue of courage.
The psychologist Frankl (1959/1985) talks about the importance of finding meaning in life, particularly in traumatic experiences.  Salander became an avenger- transferring her pain and experience to a wider cause.  She acted for herself but also on behalf of others who had suffered or who might suffer sexual abuse.  From Robin Hood to Showtime's Dexter, we celebrate vigilantes who operate with their own moral code.  For the reader, this creates cognitive engagement-it provides closure to the narrative arc and consonance with "just world" beliefs.  For Salander, it becomes emotional glue that contributes to resilience.
The history of individual resilience to adversity is a common theme in art and literary portrayals of heroes and heroism (Campbell, 2008/1949). Steig Larsson created a gruesome palette of challenges and artfully walked Salander's character down a fine line, controlling our empathy so that we were alternately empathetic and put off.  But like all our heroes, we need her to emerge victorious because her victory is proof of our own ability to survive.
—
On a side note:  I am curious to see Fincher's remake of The Girl with the Dragon Tattoo.  The Swedish film versions of the trilogy captured the rawness and grittiness of the books – even for those of us needing subtitles.  In the Swedish version, the actors were not picture-perfect beauties or studs.  They were, therefore, all the more compelling in such a ragged emotional story.  Actress Noomi Rapace was jarringly believable as Lisbeth Salander.  It will be interesting to see if Fincher can achieve the level of authenticity in this remake and achieve the grit without the sexual violence seeming gratuitous. The 'typical' Hollywood approach, however, generally casts younger women than stories call for and, shall we say, more robust men.  I did notice there are a lot of non-American actors playing the men; still I have to wonder will Daniel Craig turn Blomkvist into James Bond?  The mature women characters have been 'upgraded' with the casting of Robin Wright, Embeth Davidtz, and Joely Richardson.  But to be fair, this is pretty restrained by Hollywood standards in that they are all over 30.)  Rooney Mara, as Lisbeth Salander, has her job cut out for her.
*The Girl with the Dragon Tattoo is book one of the Millennium Trilogy.  Book 2 is The Girl Who Played with Fire and Book 3 is The Girl Who Kicked the Hornet's Nest.
References
Campbell, J. (2008/1949). The Hero with a Thousand Faces. Novato, CA: New World Library.
Frankl, V. (1959/1985). Man's Search for Meaning. Boston: Beacon Press.
Peterson, C., & Seligman, M. E. (2004). Character Strengths and Virtues: A Handbook and Classification. Washington D.C.: American Psychological Assn.
Summit, R. C. (1983). The child sexual abuse accomodation syndrome. Child Abuse & Neglect, 7(2), 177-193.
Cross-posted on Psychology Today.com Positively Media.