If you are a University relocation and/or looking for a classic mid-century modern home, don't miss the awesome and unique University Grove neighborhood. Only 8 blocks long and one and a half blocks wide, University Grove is nestled between the University of Minnesota St. Paul campus and Luther Seminary... and between the University golf course and the awesome St. Anthony Park neighborhood of St. Paul.  It feels like St. Anthony Park, but this is a separate community with a Falcon Heights address in the Roseville school district.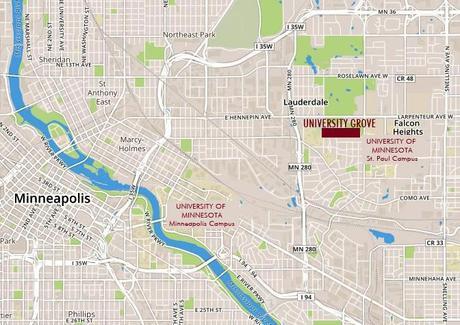 This group of 103 homes built for UMN professors and administrators on land owned by the University of Minnesota over a 60-year period is an architectural time capsule. Because each home had to be designed by an architect with a maximum ceiling on costs, no two houses are alike and they create a cohesive mix. The early homes were mostly Tudor or colonial styles, but later houses showed the strong influence of the Bauhaus and international style... creating a unique enclave of mid-century modern homes.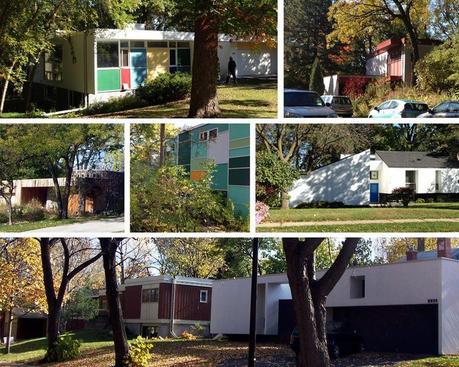 "The Park", as neighborhood residents affectionately refer to St. Anthony Park, is one of St. Paul's premier walkable neighborhoods, with a neighborhood services including a grocer, bank, restaurants/coffee shops, small specialty shops, churches, schools, and a Carnegie library, the busiest in the the metro area.
Homes for sale in University Grove must first be offered to University of Minnesota faculty and staff, but if not sold after 90 days they can be offered to the general population. Right now there are several properties available in the the Grove, including the home of Dudley Riggs, innovator and founder of Brave New Workshop comedy theater.  These properties can be hard to find in online searches such as Zillow, Trulia and Realtor.com. Here is a link to current University Grove & St. Anthony Park properties for sale, (if the link has expired, let us know and we will run and new search for you!) 
Check out other properties for sale with this Lifestyle Search of St. Anthony Park homes for sale. (search requires FLASH)
Sharlene Hensrud, RE/MAX Results - St. Anthony Park Realtor
The team at HomesMSP - Sharlene, John, Angela
RELATED POSTS
Colossal Cafe... one of a growing number of made-from-scratch neighborhood cafes
Walkable St. Anthony Park