Hey Shiners! It is a great day in Positivity land!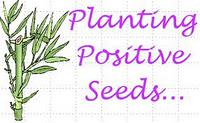 Well let me get to it....the name of this piece "United We Stand~Planting Positivity Seeds" says so much to me.  As we all know many times when we are trying to do something either it be at work or in our homes we need help.  When we don't ask for help that project may fall to the waist side.  Together with help the project is much easier and gets completed.
Well Shiners it is the exact same way if we allow negativity to surround us, we fall victim to the action.  On the other hand, if we surround ourselves with like minded positive people we stand united, so when we need help dealing with negativity we are not alone.
It is so easy for negativity to slip under our skin and plant its discouraging seed.  Being around positivity plants positive seeds and positive roots....and quite frankly Shiners~I don't mind a single bit if those type of roots just over run our garden of positivity.
See, each morning when I send out my salutations on Twitter, Facebook, or any other social network, I plant a positive seed and my Shiners who are in the positive garden with me water those seeds by responding back with positivity.  Starting your day off positive with all of you keeps us united.  One break in the positivity chain and those pesky negative roots start to fester.
Shiners their is no room for negativity.....if we see any get rid of it.  If it is surrounding you cut it off-if it keeps growing around you keep planting those positive seeds.  Its either they are going to stand united with us or we are cutting them off at the roots.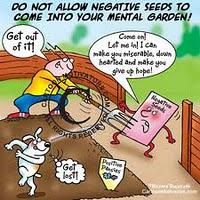 We are in control as to what is planted.  We are too wonderful, beautiful, motivated, inspired, and dedicated to let these negative roots spring up.  Our garden will constantly be on the attack if we are not united in protecting it from negativity.
So Shiners, it is time to tend our garden! i will take the first watch and keep you guys as positive as can be, but at the first sight of those negativity roots we will stand united and cut them down to size.  So take your best shot negativity-me and my Shiners are a tough team to beat!