Why Positively Famished? Well, because so many positive things can come from a great meal with friends and/or family and, hey, we get hungry!!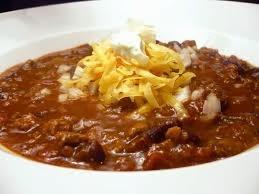 It's winter and cold out (well, here in Utah it is still freezing outside) and what better time to make a big pot of chili? I used to have a different go-to chili recipe that I posted on my old blog, but I changed it up a bit and am now doing it in my Crock-pot. It's really easy and pretty dang good, if I do say so myself. Here it is:
Trinity's Slow-Cooker Chili

Ingredients:
1 small onion -or- 1/4 cup dried chopped onion

1 tsp minced garlic (more or less to taste)

2 tbsp Worcestershire sauce

1 tbsp Chili powder

1 tbsp cumin

2 tbsp sugar

1 tsp salt

1/2 tsp pepper

1 tbsp parsley flakes

1 15 oz can tomato sauce

1 cup spicy V8 Juice®

1 cup beef broth or beef stock (I prefer stock; it's thicker and makes it a bit more hearty)

6 cans chili beans

Directions:
In a frying pan, brown ground beef with onions and garlic.

Place in slow-cooker.

Add tomato sauce, beef stock, V8 juice, & Worcestershire sauce. Stir.

Add dry ingredients and stir.

Add cans of chili beans and stir.

Cook on low for 6-8 hours or on high for 3-4.

Remove from heat, allow to cool a bit, and enjoy!
Tips:
This recipe makes a very big pot of Chili, but it freezes very well if you have a lot of leftovers.

Try different bean combinations; red, kidney, or black beans are great options.

Top with shredded cheese and sour cream if you like.

My hubby likes to top his with salsa.

Serve with crackers or corn chips.
Do you have a favorite recipe that you would like to share? Send it to me and I will feature it on our blog. Better yet, consider doing a guest post with us!
I hope you enjoy your Chili and please let me know what you think!
~Trin