"Positively Famished"...Because so many positive things can come from a great meal with friends and/or family...
I decided to share a recipe again this week because it is definitely that time of year where we are having a lot of parties and get-togethers, and what better time to try a new recipe?! This one is also a quick and easy one for those days when you've been busy working, shopping, planning festivities, etc.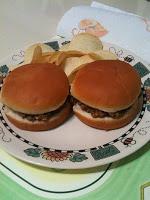 I actually got this recipe from my husband.  It's definitely a different spin on the good ol' Sloppy Joe.  I still make Sloppy Joes with more of a tomato base to them, but this is by far my favorite and usual go-to recipe.  It might sound strange, but it is so good!
No Ordinary Sloppy Joes
Ingredients:
1 lb lean ground beef

1 10-1/4 oz can chicken gumbo soup

1 tbsp ketchup

1/2 tbsp mustard

hamburger buns
Directions:
Season (if desired) and brown hamburger.

Stir in soup (don't add water), ketchup, and mustard.

Reduce heat to med-low and allow to simmer for about 10 minutes.

Remove from heat, allow to cool, and spoon into buns.

Enjoy!
So, there you have it.  Easy right?!  It really is pretty tasty too.  Well, I hope you enjoy your Sloppy Joes and be sure to let me know what you think!
I will probably be MIA the next week or so, spending time with family and enjoying this wonderful time of year, so I want to wish you all a very Merry Christmas and a most wonderful New Year!
Do you have a favorite recipe that you would like to share?  Well, send it to me and I will feature it on our blog.  Better yet, consider doing a guest post with us!
~Trin