Disclaimer: Living the Dream uses demographic data, email opt-ins, display advertising, and affiliate links to operate this site. Please review our Terms and Conditions for more information and our Privacy Policy.
On our flights home from Uganda in February 2019, we were fortunate enough to be seated in a new class aboard United flights. Aptly named United Premium Plus, the seats are somewhere in-between normal economy and long-haul business class.
But are they worth it? We have some thoughts.
United Premium Plus - A Good Medium Between Economy and Business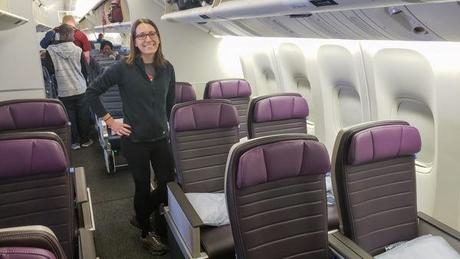 When we were handed our ticket on Brussels Airline (a Star Alliance partner) from Entebbe to Brussels, we were confused. We were upgraded to a row on the plane that didn't exist in official seat maps, and our ticket was still stamped economy.
Once we boarded, we realized we were among the first travelers to get seats on the new Premium Plus cabins being rolled out across the United and Star Alliance fleets (later that travel day we were on an official United flight in the same seating area)- seats that weren't officially supposed to be out for several more weeks.
These are interesting seats located towards the front of the plane that include just about three or four rows in a quasi-pod like format offering more reclining space, more leg room, a footrest, and a much more business class like experience.
Think of it like business on most domestic flights with seats designed a bit more like an international flight and you wouldn't be too far off.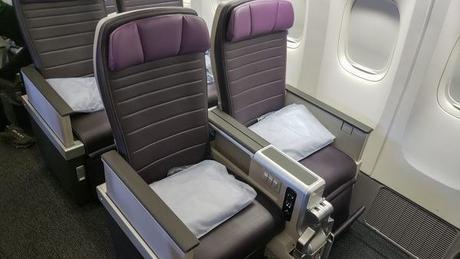 Even better? The seating was in 2 x 4 x 2 configuration whereas regular economy on the planes we were on were 3 x 4 x 3- extra width and privacy for us!
Since we were just coming off of a 12 hour car ride, and poised to endure two eight-hour flights back-to-back, Premium Plus was a welcomed upgrade we had no idea we were going to get.
But it does not come without its quirks, and today we wanted to dive into those (plus a larger explanation of the setup) a bit more.
Premium Plus Seating is Weird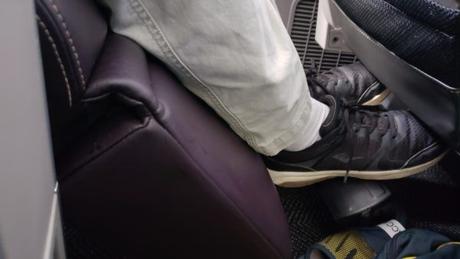 If we were to be upset with anything on the Premium Plus seating, it would be that the layout of the seats are, well, odd.
I used the word clunky while on the flight to which Angie got very upset with me (as she liked it more than me), but I think it is a fair statement.
On our first flight we were in the first row, which in typical airline fashion means no below-seat storage (which was fine) and a different kind of footrest system.
The seats try to mimic the pods of business class with a fold-out footrest, but for anyone over about 5'8 has the awkward position of being nice but just a bit off.
I couldn't quite place my finger on why, but two things I would say are that the legrest/footrest does not go up as far as it should to be comfortable on a long-haul, and that it was a bit short- such that I was propping my legs up against the front wall more often than not when in the front row. A slight leg elevation is nice when sitting, but not really helpful if you want to sleep.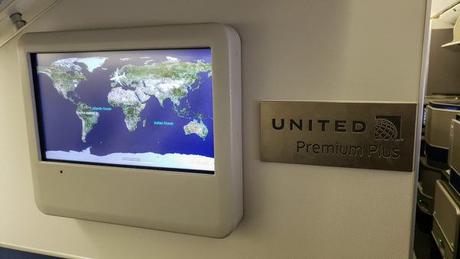 On our second flight we were in the last row, which had nice extension of the seats when reclining (just as in the front) and ample room between you and the seat in front. However, the space was narrow enough that climbing over the large and unmovable armrests was a bit of a challenge.
We got over it since we sat next to each other, but if I was next to a stranger I'd be in a very awkward situation on many occasions.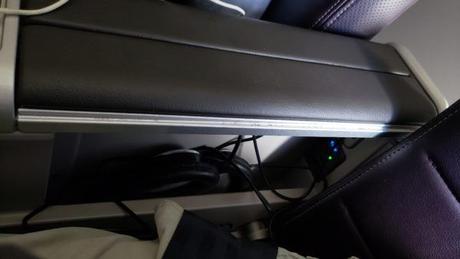 My only two real complaints, however, are that the area under the seats are too small to place our nominally sized backpacks, and that the headphone jacks and power outlets are crammed inside a small nook under the armrest (behind you) that is impossibly hard to get into without having cords on top of you (not to mention, our power outlets did not work for anything larger than a cellphone- so much for working on the flight).
While the armrest folds up and down to help with this, its still highly unusual.
Overall, I felt like I spent a fair bit of time adjusting to try and get used to the unconventional setup.
But since I adjust often in economy and only rarely in business, it's not surprising that Premium Plus is somewhere in between. That being said, I think it does detract from the experience if we're looking at it as an extra cost.
On the plus side, the seating area is typically just a few rows and has curtains separating the class from business in the front and economy in the back. So not only do the 25 or so people get a lot of privacy, no one really walks through the aisles as well other than flight attendants and the guests in Premium Plus themselves.
Even better? You get served food first and are off the plane quickly as well. Minor perks, we'll be the first to admit, but quite nice all the same.
The Food and Beverage Service Will Make It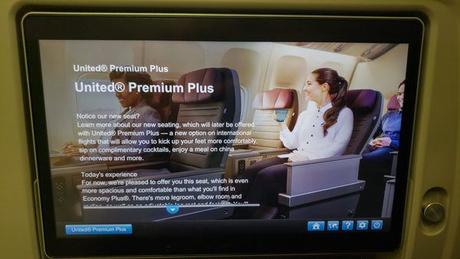 As we were seated in Premium Plus as a complimentary upgrade before the official rollout of the seating areas, a few services were missing- namely special food and drink services.
The meals here are going to end up being more like a business class experience than economy, with higher-end food, plates and silverware, and full liquor availability as well. But sadly, during the initial roll-out we were unable to experience this and had the basic economy meals instead.
If (or rather, when) we get in Premium Plus next we will update this section of the guide to share what it is like!
Overall, I'm really happy that United has introduced a class that is somewhere in the middle between economy and business. Depending on price points, especially with regards to points redemption (which appear horrible right now without good saver rates), we could see it as an option for times when we want an upgrade but can't justify business class alone.
But for now, we'll simply hope to get another complimentary upgrade.
Looking to book your next trip? Check out the following services we use and love or click the previous link to read more!