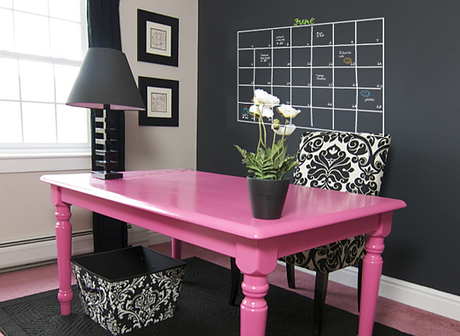 Blackboard paint!
Such a fun idea for the kids, as you know Abbie is currently going through the stage of drawing on anything she shouldn't...walls, the fireplace..the washing machine etc! And although it's their way of being creative, it's a pain to get off! What you can do is paint their bedroom wall(s) with special blackboard paint and give them a few different coloured chalk or chalk pens, then they can be as creative as they like! Don't be fooled by the name 'black' board, you can get a range of colours from pink to yellow and green to blue, so no need to worry about it making the room dark and gloomy! There are also glow in the dark colours so go crazy with your creativeness and make something special!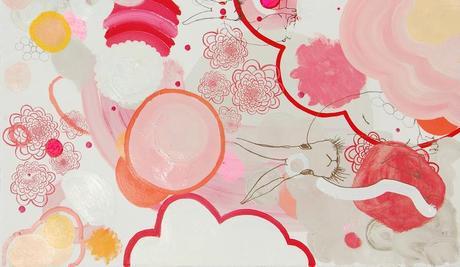 Artwork
There are the usual pieces of art that are always in nurseries and kids bedrooms, be it their name on a canvas or some kind of pretty word art, but why not get something a little bit different and go for some artwork painting, it can be of anything from ballet shoes to racing cars, or paint splashes to teddy bears, or if you haven't got a particular object in mind, try something more abstract like the one above? You will probably pay a bit more for it but it'll be unique none the less and can even be moved around the house if you want to shake things up a bit! If you have older kids try and get them involved in picking something out for their room, it might not be your cup of tea but a kids idea of art can actually surprise you, they have a rather unique taste! There is a wide selection of artwork out there so you are sure to find something to suit everyones taste!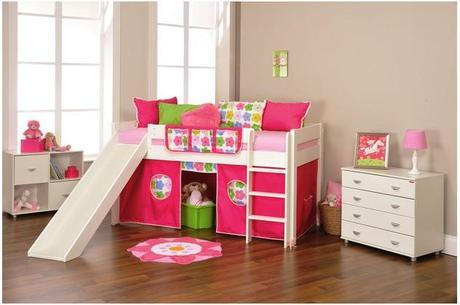 Slide!
I'm not talking about in the middle of the room or anything, but if they have a bunk bed/high sleeper, why not replace the ladder with a slide to make it more fun! It might also be a good way to encourage them to sleep in their owns beds if you're having problems with that area! I always wanted a slide when I was younger but never had a big enough bedroom for it, it would've been pretty awesome though! You don't have to spend a fortune either, have a search on eBay or other marketplaces for handmade slides to suit your budget! Or why not make your own from home if you're feeling crafty!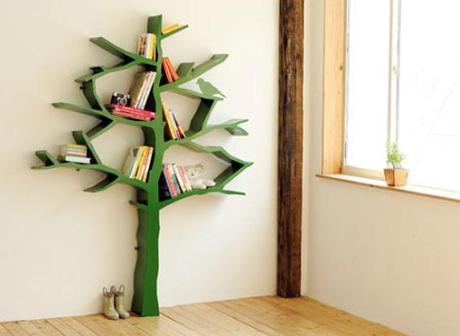 3D Bookcase
I love love love this idea! Not only is it a great storage idea but it looks so fun and original! Picking your little one up to reach their favorite book and sitting underneath it reading together seems like such a cute way to wind down before bedtime! You could even wrap some LED fairy lights around it too to create a sparkling starry effect, or why not put their night light on one of the branches for that burst on light! There are many other 3D decals you can use too, from wooden boats to butterflies and even racing cars coming out from the wall, create a magical bedroom that will have them looking forward to bedtime rather than trying to fight it! 
What is your favorite idea?