If you're new to English Wedding, you may want to subscribe to my RSS feed. Thanks for visiting!
Despite saying that the Royal Wedding "is sooooo last month" recently on my own little blog (a bold statement I know) I have to confess that I've stocked up on the Kate & Wills memorabilia. As well as collecting the Daily Mail's free souvenir I also snapped up the Royal issue of Hello, the Sun and the Royal Mail Collectors Stamps (oh how very OAP of me). I thought that it would be nice to keep a few mementos from the Windsor's big day as they decided to get wed in the same year as us… I've phrased it this way as we've been planning our DIY nuptials since Garry popped the question on Bognor Beach on 13th June 2009 (so at the risk of sounding like a school girl, we started planning first).
2011 is turning out to be an uber wedding-tastic year! First off we had the gorgeous Royal couple with their blue blooded fairytale (which thankfully stayed free from April showers). Then in just under two weeks one of my bridesmaids, Amy, will being tying the knot at Marylebone Town Hall. In June Garry and I will hit the aisle of our local church in Bromley, shortly followed by Garry's brother and his girlfriend just seven weeks later in Devon, with the Autumn seeing my old school chum Michelle getting hitched to her beau in the Kent countryside. Exciting and expensive times!
The planning for our wedding has, so far, been an emotional rollercoaster. When Garry popped the question I really didn't see it coming and I walked around for a good two months with a perma-smile upon my face. But once the planning really began so did the highs and lows… We had to arrange the date of our big day around Garry's brothers work rota as he is in the navy, which meant that 'operation lets get wed' had to be put back a year from 2010 to 2011 (as you can see I'm totally over this, it doesn't niggle away at me at all). Then came the family requests for great aunts and uncles, who we've only met once or twice, to be on the day list (sighhh), followed by the usual guest list politics. I hope that I'm not alone in thinking this but it seems so strange that you end up inviting 'so and so' and 'what's his name' to keep distant relatives and old friends happy. When that ring first went on my finger I had no idea that an invite-minefield lay ahead. I very naively assumed that people would work to keep us happy in the run up to the big day, not the other way around.
That said I'm sure that Kate and Wills had it far worse… I can't imagine how they whittled their huge church party list down to just 300 for their evening bash! I really should consider myself lucky.
The day before the Royal Wedding I splashed out on a £2 Union Jack in Sainsbury's and some delightfully naff flags for my car (well how often do we get a good excuse to go all Union-Jack-Mad). All the street parties and patriotic vibes got me thinking about our DIY day… I love the Union Jack and wondered how I could incorporate it into the wedding. Our pastel colour scheme wouldn't really allow for Union Jacks inside our Village Hall reception but the little over-spill marquee that my parents friends are lending us could (hmmmmmm).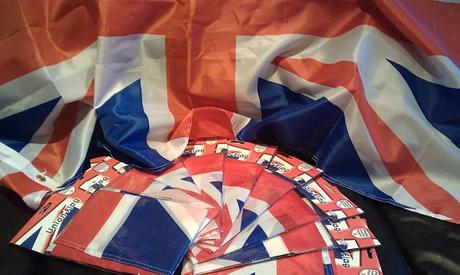 My mum and I decided that most of the chaps at the wedding will probably avoid the dance floor like the plague and head to the outside of the hall to stand with a beer firmly placed in hand, so we thought that Dave and Eileen's mini marquee would provide them with a little cover. But after planning the inside of the hall for almost two years I couldn't possibly just let the marquee stand bare and undressed… Oh no! Well thanks to the Sainsbury's sale this evening I'm now the proud owner of 9 more flags, priced at just 20 pence each (gosh I love a bargain). I've decided that I'm going to hang some of the flags inside the white structure and use the rest as table cloths to jazz up the plastic garden furniture that my mum's other friend Izzi is lending us. We're going to deck the inside out with fairy lights, for some mood lighting, and I'm going to make a 'Union Jack Club' sign to hang above the entrance. Hopefully it will provide a nice little pink-free haven away from the bunting and tea sets for the big burly boozey boys, somewhere where they can really enjoy their Spitfire Ale!
All this flag-thought also got me thinking about the earlier part of the day… As our homemade day is very British (we've used as many local and British suppliers as we possibly could, even down to wine from Kent and Surrey) I thought that it would be nice to make some little pastel Union Jack flags for people to wave as we come out of the church to board the Routemaster Bus. I will be adding this new task to my ever increasing list of DIY details… Oooh a little taste of Union Jack Fever may well be coming to Kent this summer!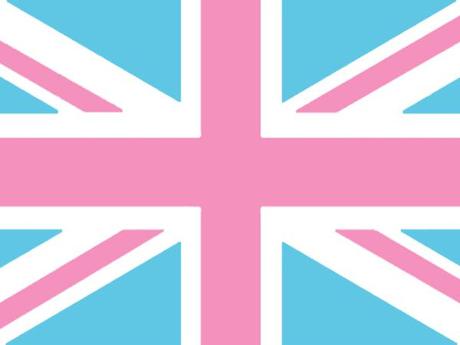 I'm going to fashion bright Union Jack flags with wooden dowels and glue galore.
If anyone has any other Union-Jack-tastic ideas for the outside area of the reception then I would love to hear them please…
If you fancy reading more of my woffle then please do head over to Met My Match.
Happy blogging everyone
Loulabelle