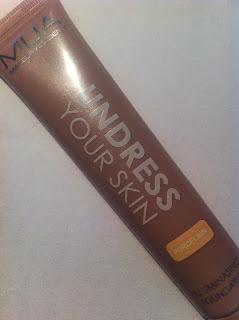 Hi guys!
Today I went shopping and as I mentioned yesterday I would be picking up a few bits to show you.  After all my moaning on Twitter, I decided I had to go in search of a new foundation. I just cannot afford more Studio Fix on a student budget. 
Today in Superdrug I picked up the MUA Undress Your Skin Illuminating Foundation. I picked this up after hearing Miss Budget Beauty aka Khila talk about how much she loves it. I chose the shade porcelain as I am extremely pale. I managed to pick this up for £3! Yes I know bargain! It was reduced in my local Superdrug store, so I just had to grab it. I must admit I did not have high hopes for this product. I thought the title suggested it would give a sheer "naked" finish and by all means was I wrong. This product has a beautiful natural finish but still provides amazing coverage. It covers my imperfections and doesn't look to cakey on my skin. This product contains illuminating particles which I normally steer clear of due to my combination skin, but I have to say I am in love. This product is by far the best I have tried from MUA. The shade suits my skin perfectly, the consistency is lovely and the coverage is excellent. I wouldn't recommend this for people with dry skin as I feel would cling to dry patches easily. If you are after a good coverage foundation which suits fair skin tones, go check this out! It wont disappoint.
I have yet to test this for the full day to give you an accurate opinion on lasting power. I have had this on for a few hours, so far it has lasted really well. I haven't spotted any patches where I think need a touch up so far, so I am pleased to say this product gets a big 10/10 from me. 
Have you tried this product?
Keep smiling!

xx