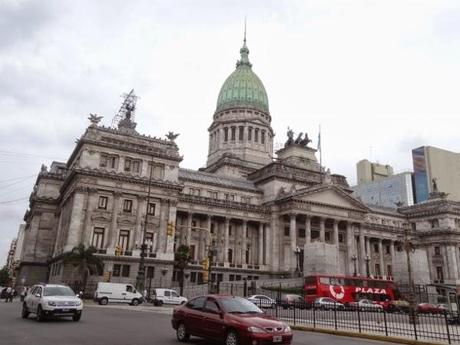 Before our stop in Buenos Aires, many people assured me that I would fall in love with the "Paris of South America." Seeing as Paris is one of my favorite cities that we've visited on our RTW trip, I had high expectations. But instead of being "electrifying" and "sizzling" as some guide books describe the city, I found Buenos Aires rather dull and underwhelming.
The lack of character, our bad food experiences, the difficulty of withdrawing money from ATMs, and other bureaucratic nightmares made our time in Buenos Aires less than awesome.
What City Is This?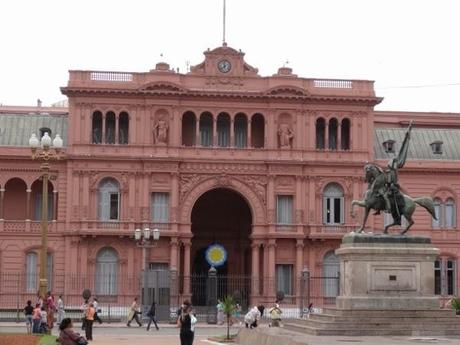 My first impressions as we walked along Ave 9 de Julio were that I could be in any big city anywhere in the world. No architecture or character really stood out. We did walk through a few other neighborhoods like Recoleta and San Telmo, which, although they were nice, still felt like they could have been anywhere.  Considering other major cities have styles that are most certainly their own, Buenos Aires seemed just a little too plain. 
At Least the Food is Good, Right?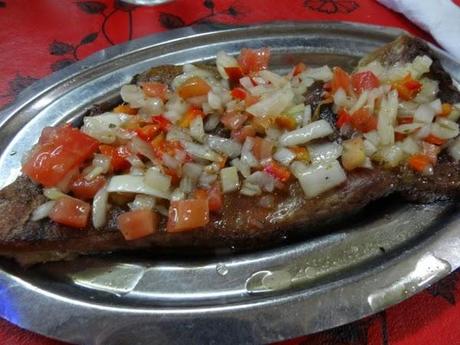 I was really excited to try the food in Buenos Aires, but over and over again we just kept striking out.
My ravioli at the popular restaurant El Desnivel was inedible and Jeremy's steak there was drowning in a layer of grease (see above). We tried three or four different pizza places, including the famous El Cuartito, but I just couldn't get past the fact that all of the pizzas had barely any tomato sauce and were covered with pounds upon pounds of cheese.
That's not pizza, that's just cheesy bread.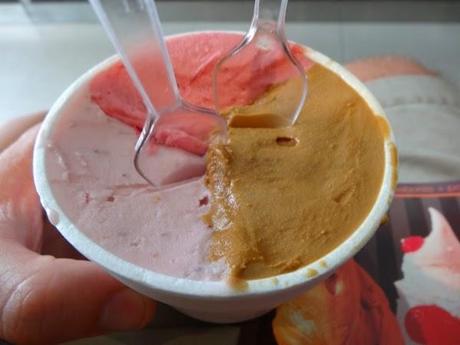 On our final night in Buenos Aires we went to La Brigada, another popular spot known for their steaks. Jeremy and I both got the lomo, which was a nice hunk of meat, but that's just it:
it's just meat
! With no seasoning and no sauce, you can only eat so much before you get the meat sweats and give up. The final straw was when we stood up to leave after placing money on the table with the bill, and our waiter came over and
counted the money while we were standing there
! He then proceeded to tell us that tip was not included and waited expectantly for us to give him more.  Considering his service was poor at best, all they ended up with was a terrible review on TripAdvisor as soon as we got back to our room.
Low Limit ATMs and Bank Fees Galore
Another irritating thing about Buenos Aires is that you can only withdraw around $200USD at a time at ATMS, and the standard withdrawal fee is about $6USD.
Seriously?
You could spend $200 on a single dinner with relative ease at some of the popular restaurants we went to. Although this withdrawal limit is something we've found throughout Argentina, it is much more problematic in Buenos Aires where the cost of food and lodging is much higher than in smaller towns. So far we have spent more in bank fees in Argentina than we have in almost all of our previous countries combined.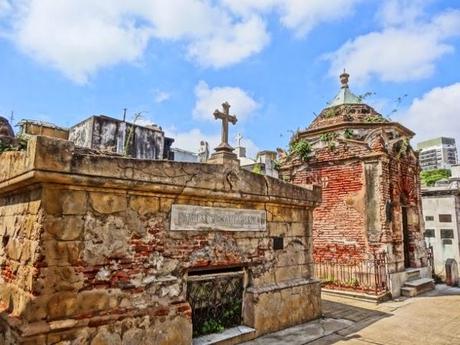 And For Shipping Boxes, Don't Even Think About It
Finally, don't ever try to ship a package from Buenos Aires.
Just don't do it.
We waited in line an hour for the post office to open, as the waits get incredibly long if you show up any later, only to find out that you can't ship boxes weighing more than 2 kg from just any old post office. You have to go to a specific head post office, which has weird hours and even longer lines (people take their number, go about their days, and come back hours later to do their business).  We ended up carrying our box on our flight to Ushuaia and over the border into Chile before finally being able to mail it without hassle at a local post office (it also arrived to our parent's house 6 days later, a new record).
I admit that we
didn't see everything Buenos Aires has to offer
. We're not partiers so we didn't experience staying out until 5am drinking and we also didn't get to see any of the tango culture which is something we deeply regret. Even so, I don't think any of these experiences would have redeemed the city for me. As much as I tried, I just couldn't find anything that really intrigued me about Buenos Aires.
Luckily, we flew down to the Tierra del Fuego and Patagonia shortly thereafter, and our opinion of Argentina as a whole changed for the better.
We spoke to many travelers in Argentina who felt the same way as us about Buenos Aires, but we want to know what you think!  Comment below to let us know what you thought about this popular South American destination.