According to our blog's search terms report, many people are always asking what is the difference between incontinence pads and period pads, and whether they can be used for the same purposes.
Appearance-wise, the two types of pads look pretty similar. They're both lightweight and usually have an adhesive strip that sticks onto your underwear. However, in terms of functionality, the two pads are quite different.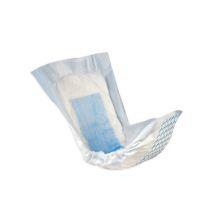 Incontinence pads are specifically designed to absorb urine release, while period pads are used for absorbing blood at a slow trickle. Bladder pads have a unique absorbent layer that wicks urine away from the skin, keeping it dry and free of odors.
That being said, menstrual pads cannot absorb urine as well as bladder control pads. Therefore it's best to use a bladder pad for managing incontinence. Our customers enjoy the Tena Pads because they are available in a wide range of absorbencies and feature multiple layers to help keep the skin healthy. We also carry gender-specific bladder pads, such as Poise pads and Prevail pads for men. Gender-specific pads feature a unique body-shaped design that contours to the anatomy of a male and female.
If you or a loved one is experiencing light bladder leakage, consider using an incontinence pad – it'll offer more protection and give you the confidence you need to lead an active life.