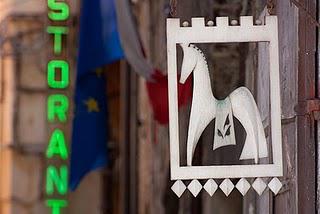 He's not going to do it.
The waiter just slapped a medieval-icious silver sword on our table, and started peeling the foil off the top of our bottle of Franciacorta Rose. I mean, seriously? It's dangerous. He might get glass in my glass of bubbly bubbles. Isn't swiping the top of a champagne bottle with a blade positively archaic anyway? A lost talent?
He's doing it! We cheer, like the loud Aussies we are. We're going to have to glug down this delicious fizz so we can order another bottle and watch him do it again.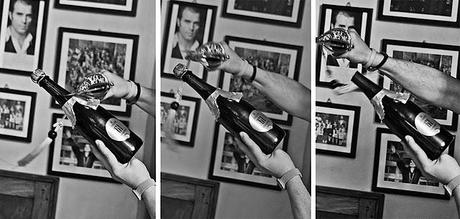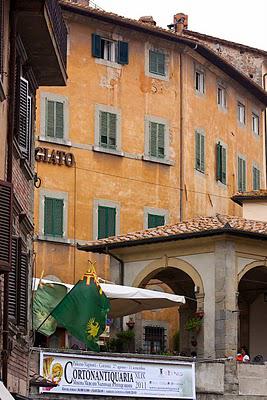 Frances Mayes came to Cortona on holiday once, and the place enamoured her so suddenly she bought a rambling old mansion and changed her life. I've been feeling this way a little myself lately, more about Umbria than Tuscany, but Cortona is a Tuscan town that feels like it is in Umbria. Sleepy alleys, views over patchwork plains, real residents (not 95% tourists), churches you don't have to pay to go into, and restaurants serving something other than wild boar and pasta.
We arrive through the main gate to the south. It's market day, and I can't see it immediately - I have to search for it. Finally, off a piazza that is in turn off the main piazza, we find it. Clothes for Italian Nonnas prevail, with garish costume jewelery, cheap leather goods and very good and inexpensive linen tableware. Through to the back, we find the food - a slight disappointment as compared to the vibrant regional French markets my family loves so much, until we see the whole roasted pig. Porchetta is being taken off in slabs and thrust into piping hot foccacia, and everyone is eating it. Pepper and fennel fill the air. I simply must sample.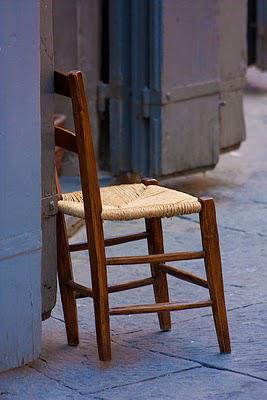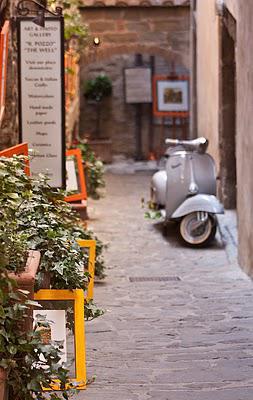 There are art exhibitions and antiques everywhere. Someone has sculpted fairytale bronze olive trees with wood nymphs, another has grafted cacti to create shape and form quite spectacular. Rickety chairs and wheelbarrows decorate the doorways. I find the most beautiful Champagne glasses I have ever seen. 200 Euros for 6. Maybe not.
It's hard to pick somewhere to eat. The streets appear to be virtually breeding enotecas with attached dining areas, each with a unique aroma wafting as we pass - roasting tomatoes, char-grilled pork, garlic and lemon, pastry and pizza, canolli and custard. But today I take my own advice, and delve off the main drag. Because everyone knows you never eat in the central piazza. (but for some reason, I always do...)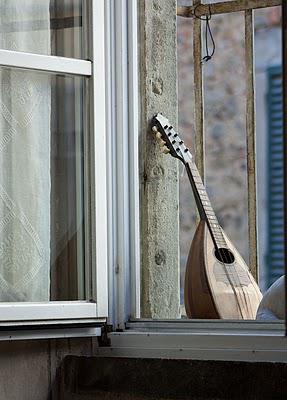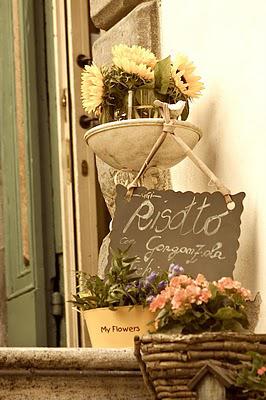 Up the hill, "I think I can, I think I can" I puff, and there I see some chairs and tables up some 500 year old stone stairs framed in potted begonias and sunflowers. Chatter and laughter eminates. A mandolin is perched on the windowsill, and I smell herbs poaching in white wine. And so here begins my champagne smashing and gashing lunch theatre at Osteria del Teatro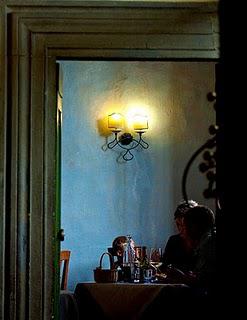 The service is friendly, casual. The waiter tickles my golden-haired son, and pretends to steal his Lego. The winelist is very fairly priced, and as a result, we sample too much of it. The menu is tricky - I want the tuna tartare, no, the zucchini flowers, no, the bresaola, or maybe the pork, the fondue, the duck and fennel taglietelle. Our group of six ensures we all order something different, so we can all taste the others.
I settle on the stuffed zucchini flowers followed by the duck. Both amazing. Best dish? The tuna tartare - it's cut into one centimetre cubes, and marinated in a zesty lemon and olive oil dressing, and served with a rustic breadcrumb, tomato, herb and celery combination. Traditional? I don't know - but I love it. Dessert also wins us over - home-made gelato is a given, but the treat is the "Charlotte", Osteria del Teatro's version of tiramisu, like an inverted cup of drunken sponge, marscapone and magic.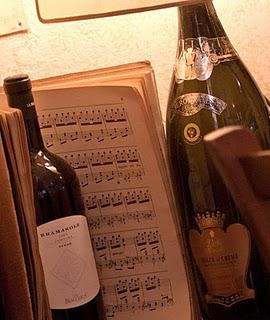 The decor is kooky to say the least. The ladies bathroom is filled with dolls and dried flowers and for some reason, brings "Chucky" to my mind. Picturesque details are everywhere, and just when I think I've photographed it all, my son drags me into the men's room to show me the antique cars. There is a terrace, and various rooms (we sat in the yellow one), all with their own personality.  We therefore have our senses pounded from all directions. It is not a boring lunch.
We toddle out, and the market is all gone. We purchase drunkenly - a printed silk umbrella, handbags, more wine, cheese and the most feral looking sausage I have ever encountered. We appease the children with lemon granitas and a trip to the park, which overlooks the entire world. Hambone and I hog the swings while the children stir up their lunch on the mini carousel. We consider the opportunity to purchase our own Bramasole, the Tuscan dream house. But ask Frances Mayes - spontaneity is the key. If you start talking sense, the dream is quickly gone.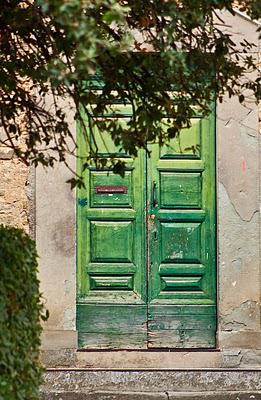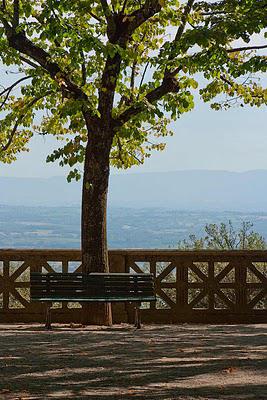 -------------------------------------
Cortona is almost on the Tuscan/Umbrian border, just north of Castelione del Lago, and less than an hour from Siena. It is the site of most of the filming of "Under the Tuscan Sun", a film starring Dianne Lane, which follows the story of a single woman falling in love with Italy, and spontaniously jumping off her tour bus and purchasing a dilapidated villa by the name of Bramasole. It is based on Frances Mayes story, At Home in Italy.
It is a fairly small town, and although you could walk around it in one day, we went twice - we just wanted to linger, and we could have gone again. If you wanted to check out all the sites, you would definitely need at least two days (link here for top 10 sites in Cortona)  Parking is fairly easy, but involves a walk up the hill, or you can catch a bus directly to the main gate (which links to the Arezzo train). Despite its size, there are constantly events, generally focusing on the arts, food or history. The Joust that takes place in the first week of June looks like one for me next year!
More photos below - I kept over 200 in Cortona - it really is a wonder of Tuscany, I could not shut my mouth for the amazement.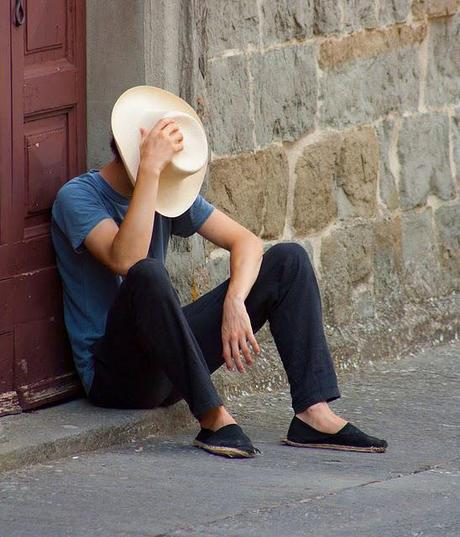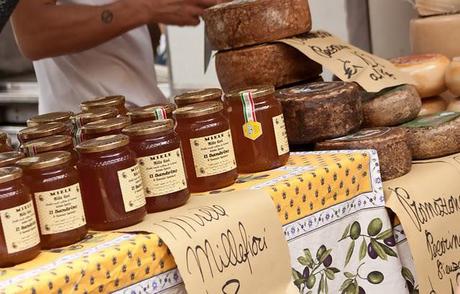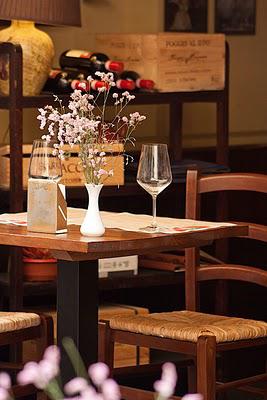 Leave me a comment and make my day...