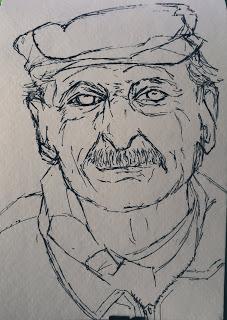 I chose to use a grisaille technique for the painting of this old man in watercolor. Grisaille is an old technique oil painters used to develop a monochromatic value study, kinda like a road map for your painting. This later served as a base for the addition of  transparent layers of color. For this painting, I chose to use a limited palette of dioxazine purple, Naples yellow,  alizarin crimson for the face with a pop or 2 of transparent orange and green gold at the end.
**This is not a palette I would choose again and here's why. Naples yellow doesn't pack any punch and is opaque. This is not a great mix when you need to cover or mute the purple. Diox purple is also strong stainer, making it difficult to remove pigment. Sometimes this is ok, but didn't really help on this piece.
I started this gentleman with an ink sketch that can be found in my Strathmore watercolor 400 series journal. I love the quality of paper in this journal but I wish it would lay flat when I am working in it.
Then I started applying washes of diox purple until I had the value I was seeking. Working in ink instead of a pencil will also guide you in judging values. I judge my paintings' completeness by when my pen lines disappear in the painting. But don't feel you have to work in ink, it is whatever you are comfortable with.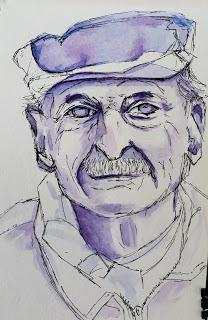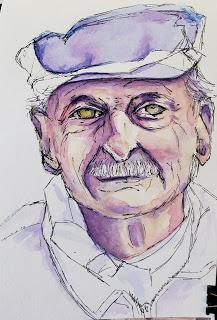 When you are happy with your underpainting we can start adding the rosy glow. Start by wetting your paper and when the shine disappears you can drop your yellow and red mixes. Don't worry about mixing on your paper as much as just dropping color and letting the wetness of the paper carry the color.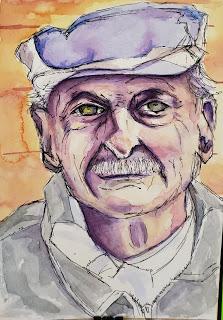 I have started adding a background to the painting. I chose to use an orange color as I felt that it worked nicely against the purply-blue of the foreground. Now if you carry that opaque Naples yellow over his greyed jacket it produced a beautiful greyed tan, perfect for the illusion of a worn jacket. A key to a successful painting is having your colors appear throughout your work. It doesn't have to be the entire palette of colors you use, but one that appears in several places will connect the painting. In this painting that color would be the diox purple or the Naples yellow.