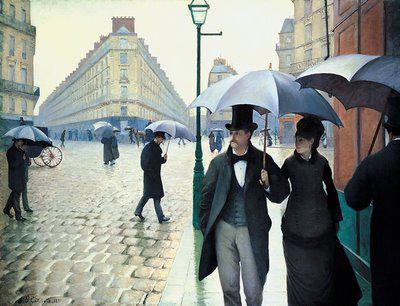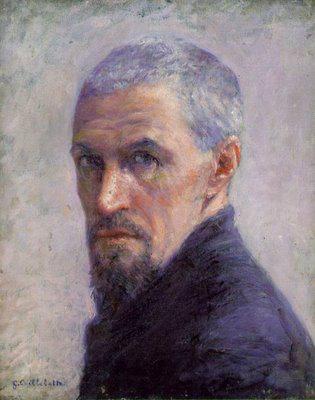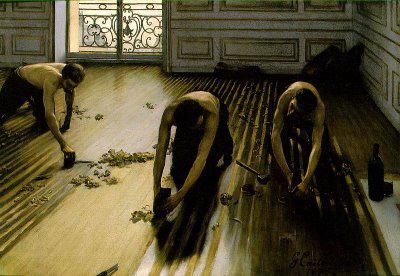 Gustave Caillebotte was a French painter and a generous patron of the Impressionists. I would hazard a guess and say most people know his work from the fitting image seen on many umbrellas available in today's gift shops, Paris Street; Rainy Day.
Caillebotte was born August 19, 1848 into a wealthy family who had made their money in textiles and real estate during the redevelopment of Paris in the 1860s.
Multi-faceted Caillebotte had a law degree but he was also an engineer. He also attended the École des Beaux-Arts in Paris. After inheriting his father's fortune in 1874 he befriended the Impressionists Degas, Monet, and Renoir. Caillebotte helped them to organize and fund their first major group exhibition in Paris. As the only one with any serious financial means, Caillebotte would become the main patron and supporter of the group.
In 1875, wishing to make own his public artistic debut, he submitted a painting, The Floor Scrapers, to the Paris Salon, whose jury promptly rejected it. Caillebotte then decided to exhibit the painting in a more accepting environment, and showed it at the second Impressionist group exhibition of 1876.
Caillebotte's Paris Street; Rainy Day, considered his masterpiece, was shown at the Impressionist Exhibition of 1877. It shared the spotlight with Pierre-Auguste Renoir's Ball at the Moulin de la Galette. Its massive size, almost 7 feet by 10 feet, drew a great deal of attention and dominated the 1877 exhibition which was largely organized by Caillebotte himself
The wealthy and generous, Caillebotte often underwrote the costs incurred for the exhibitions of his friend's work. He financially supported his colleagues by constantly purchasing their paintings at inflated prices.
He himself participated in later public exhibitions and painted some 500 works although in a more realistic style than that of his friends.
Caillebotte died of pulmonary congestion in 1894. On his death, his superb collection of Impressionist paintings was left to the French government who accepted it with considerable reluctance. At the time of his death, the Impressionists were shunned and condemned by the art establishment in France. Well aware of this, Caillebotte stipulated in his will that the paintings in his collection must not end up in attics or provincial museums.
Caillebotte's collection consisted of a staggering sixty-eight paintings by various artists: nineteen by Pissarro, fourteen by Monet, ten by Renoir, 9 by Sisley, 7 by Degas, 5 by Cézanne, and 4 by Manet.
In 1897, a room named in Gustave Caillebotte's honour opened in Paris's Luxembourg Palace and displayed the first ever exhibition of Impressionist paintings in a French museum. It contained only 38 of the paintings that Caillebotte had left to the state. The other twenty-nine paintings (one went to Renoir as payment for executing his will) were offered to the French government in 1904, and again in 1908, and both times the government refused to take them. A change of heart in 1928 encouraged the French government to claim the paintings but they were refused. Most of the remaining works were bought by Albert C. Barnes, and are now held by the Barnes Foundation of Philadelphia.
Forty of Caillebotte's works are now housed at the Musée d'Orsay.