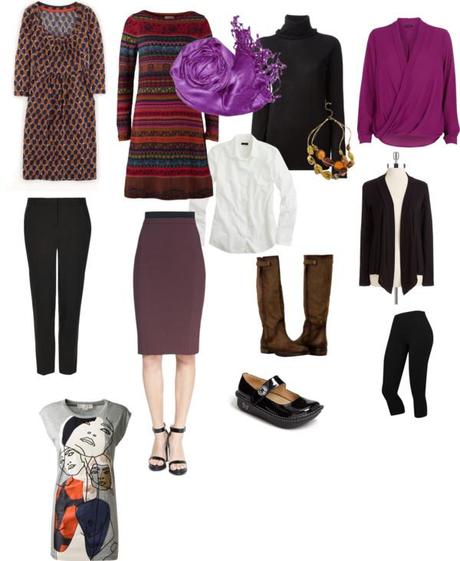 Hey everyone. I came across an article on Oh Happy Day - How to Pack for 2 Weeks to France in a Carry-On. It inspired me.
It's a pretty good, informative article. I'm a light packer too. Although my last Paris trip (2010, sigh) was only for a week, I think even Jordan has packed too much. Pack whatever floats your boat, but for my comfort a lighter suitcase is a better suitcase.
I would never pack 4 pairs of shoes. One extremely comfortable pair of boots or shoes on your feet should do. Two at a pinch. Shoes are heaviest, most clumbersome things to pack. Alegria shoes are the most comfortable thing I travel in. They are hell to pack though (and no backwoods hiking!) so I wear them on the plane. Security loves there huge soles!
If going in autumn  I would pack my most flattering, comfortable dress and a stand-out tunic or sweater dress for color. Black tights and leggings, a black double-knit mini (or 2), a black turtleneck, a white shirt,  and a pair of black pants can be mixed and matched. Pick whatever colour,  but it's easier if its monochrome.  I would pack a heavy-knit wrap-around top and a light jersey cardi. A graphic t-shirt dress to sleep in. ( I will explain)  Everything can be dressed up with a colourful scarf or some chunky jewelry.
Things I would change from my last trip. I would add is a good pair of jeans and to switch the shoes for knee boots. I have to admit that no women I saw in Paris looked overly dynamic - Just jeans, leather boots, scarves galore and a good hair cut. I saw one really great coat on someone in the 4th Arrondisement, but all the craziness that one sees on the Sartorialist for example, must have been reserved for some other time and place because I saw none of it.
I would also tone down the stand-out tunic. I wore an orange sweater-dress from IVKO and I know that I was the only person in Paris wearing orange that day. They knew I was a foreigner, just ask the panhandlers that harassed me for blocks. Parisians still prefer dark colours. But if you want to stand out, go right ahead. I still might.
No PJs I just slept in a  long t-shirt dress. If you want to go to the disco. Wash it in the sink, dress it up with jewelry and accessories. I took a Roots Test Pattern T-shirt dress to sleep in (not the expensive Stella McCartney above). Needless to say (because I'm shy) I did not wear it out to a disco.
I've can come up with at least eight outfits from the above. Good luck if you are traveling this autumn. Bon Voyage.