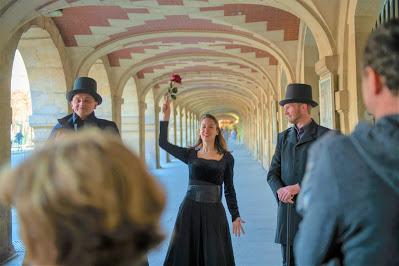 (c) La Magie de Marais
From the castle-like 
Hôtel de Sens
, one of the last remaining examples Renaissance architecture left in Paris, the outdoor event 
La Magie du Marais
 sets off to the romantic Place des Vosges via the backstreet village of Saint-Paul. The actors of Visites-Spectacles reveal the Marais and its secrets t
hrough a tale comprised of real life historical figures and those invented to illustrate the story.  
It's not a guided tour or a play, but both!
The intrigue revolves around a learned archivist, a mysterious magician and an actual femme fatale, the actress Rachel Félix and the mysterious golden mask she is rumoured to have made.
It's happening Sunday June 13 at 1:30 and organized by Visites-Spectacles. It is also offered every other Saturday during the summer.
It's ninety minutes of fun, but it doesn't come cheap. Please check this website for more information and preregistration. https://www.visites-spectacles.com/la-magie-du-marais/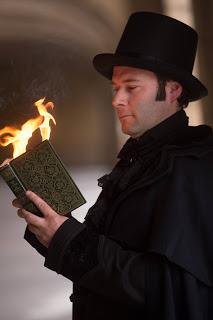 (c) La Magie du Marais