I enjoyed the first batch of the Uncle Nearest 1856, though I do have to say that subsequent batches haven't had the same profile as that initial release. I've tried it at events and friends' homes and the current releases are distinctly missing the roasted sesame quality I loved. Good thing I still have a little bit of it left 😃… but that's not what we're here to talk about. Today we're talking about the Uncle Nearest 1820 Single Barrel Whiskey!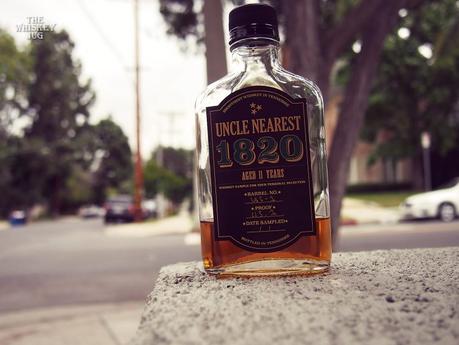 The release I have is number 1 and there have been 2 more since this making the most recent one US-3. It's a single barrel which they call that out on the label, but looking at the label, and others I found online, there is one term that's missing: straight.
I assume it's a straight whiskey being that it's a single barrel, but it would be great if they'd put that somewhere on the label to let us know… or disclose if it's not. Any ways, on to the Tennessee Whiskey review.
Uncle Nearest 1820 Single Barrel Whiskey Review: Details and Tasting Notes
Did you know that less than 1% of Uncle Nearest Premium Whiskey barrels will ever be selected as single barrels? In order to be a candidate for our Uncle Nearest 1820, the whiskey must be aged a minimum of 11 years, with a cask strength above 108, and each one is hand-picked by our founders and approved by a panel of whiskey industry professionals. These barrels are exceptionally rare and the whiskey is worth the wait.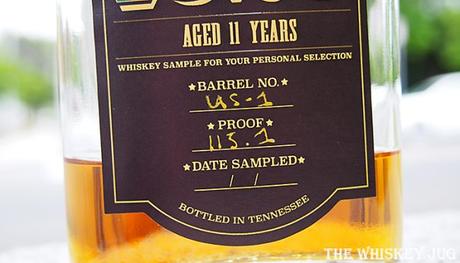 Details (price, mash bill, cask type, ABV, etc.)
Region: Tennessee, USA
Distiller: Undisclosed (George Dickel)
Mash Bill: 84% Corn, 8% Rye, 8% Malted Barley
Cask: New Charred Oak
Age: 11 Years
ABV: 56.55%
Cask Strength | Non-Chill Filtered | Natural Color
Barrel: US-1
Price: $120*
Tasting Notes
EYE
Ruddy caramel
NOSE
Oak and sweet corn dominate with notes of dark fruit, char, cocoa, baking spice and touches of chalk and vanilla.
PALATE
Shifts gears to be darkly fruity and oak with supporting notes of dried corn, toffee, complex spice, cocoa and some leather and char.
FINISH
Long -> Dark fruit, oak, spice and leather.
BALANCE, BODY & FEEL
Great balance, full round body and a rich oily feel.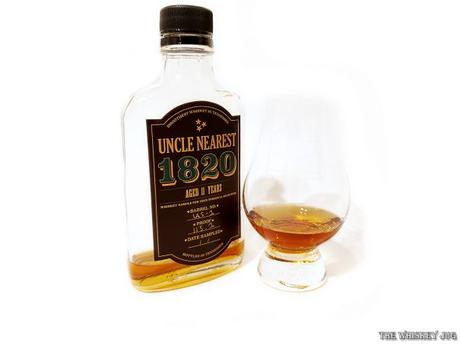 Uncle Nearest 1820 Single Barrel Whiskey Review: Overall and Score
Depth and elegant delivery are both found here. The Aroma screams George Dickel to me with that corn and oak combining in a slightly musty, but still grainy sweet way; Palate also shouts GD but with the chewier dark fruit style found in older Dickel; Finish is a long pleasant fade that combines all the best notes.
This Uncle Nearest 1820 Single Barrel Whiskey is right up there with some of the best Dickel Single Barrels I've had. It's a truly tasty release that would send any Dickel fan rushing for a second glass. With NDP releases like this, and others, it's a good time to be a Dickel fan, because even if it doesn't carry the name, there is a lot of really good GD floating around the market these days.
SCORE: 90/100 (A-)
*Disclosure: This Uncle Nearest 1820 Single Barrel Whiskey sample was graciously sent to me by the company for the purposes of this review. The views, opinions, and tasting notes are 100% my own.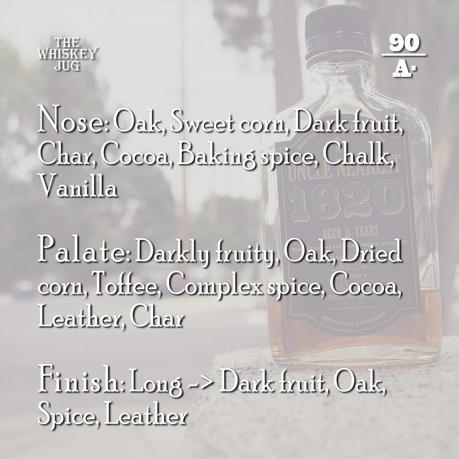 Nose -

91

Palate -

90

Finish -

89

Balance, Body & Feel -

90
90
Uncle Nearest 1820 Single Barrel Whiskey Review Summary
Uncle Nearest 1820 Single Barrel Whiskey is an excellent sourced Tennessee Whiskey, aged for 11 years and very… very good.
Sending
User Review
0

(

0

votes)
Comments Rating
0

(

0

reviews)

……