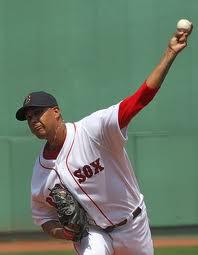 The Red Sox opened the four game series with the struggling Detroit Tigers on a beautiful Memorial Day with a 7-4 win that was aided by the first base umpire.
With the score 1-1, Mike Aviles appeared to have struck out to end the second inning. But first base umpire Bill Welke overruled the home plate ump, who ruled Aviles had struck out. Welke said Aviles fouled the ball off and it hit the ground before catcher Gerald Laird caught it.
Replays showed that Welke was wrong on BOTH counts.
And with a new life, Aviles singled in a run, and the Sox scored two more to lead 4-1.
Tigers manager Jim Leyland and third base coach Gene Lamont were absolutely furious, and were tossed out for their trouble.
It was enough for Felix Doubront, who went six innings and allowed two Detroit runs. Jarrod Saltalamacchia added his 9th home run. Scott Atchison was excellent in his two innings of relief. Alfredo Aceves allowed a garbage time two-run shot to Jhonny Peralta to close the game at 7-4.
However, Dustin Pedroia left the game after the fifth inning after making a diving play to rob Danny Worth of a hit. He jammed his right thumb and is considered day-to-day.
Once again, the Red Sox are at .500, with a record of 24-24. The Sox have the pleasure of facing Justin Verlander in the second game on Tuesday night against Daniel Bard.