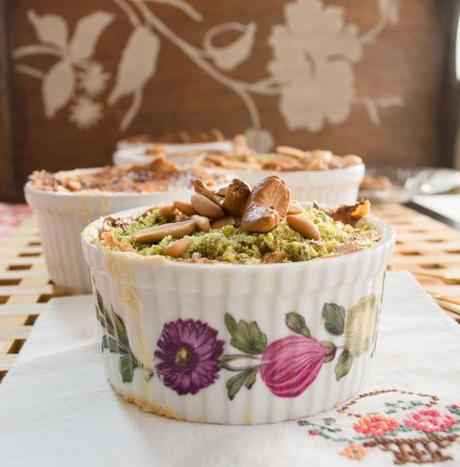 There is a story behind this dessert, but its not about me and it is not pleasant.
Once upon a time in ancient Egypt, lived a Sultan Salih Ayyub who married one of servants and made her a Sultana. Her name was Shajar al-Durr. Upon the Sultan's death, she ruled Egypt in 1250 AD, for 80 days.
Back in these days, it was frowned upon for women to rule, so she was forced to marry another prince, whom she had to surrender the thrown to, Sultan Aybak. The new sultan had a first wife, known as Umm Ali, and had a son called Ali. In the Middle East, men (and women) are usually called by the name of their eldest child (usually the male child). So if a couple's eldest son is called, Ali, the mother would be called Um Ali (the mother of Ali), and the father would be called Abo Ali (the father of Ali).
Shajar al-Durr prevented Aybak from seeing his first wife and son, he willingly obeyed and the couple lived happily for seven years. Until one day Shajar al-Durr found out that her husband was planning to marry another lady. Furious and jealous, she plotted his murder and claimed that he died suddenly in his sleep.
Ali, his son from his first wife, was named as the Sultan of Egypt. Umm Ali was so furious of what Shajr al-Durr did. So she plotted her brutal murder by having her own servants beat her to death with eb'ab (wooden shoes) in the bathroom.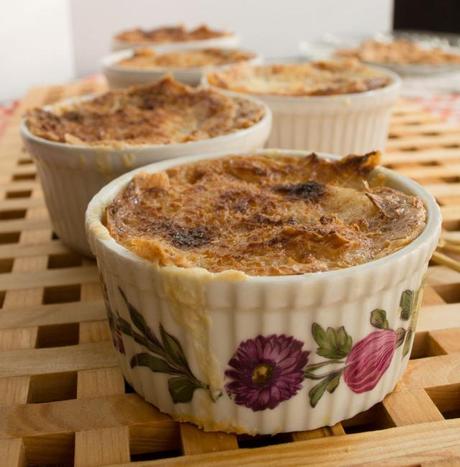 To celebrate the death of her rival, the sultan's widow and first wife, Umm Ali, made a type of pudding dessert and distributed amongst the people to celebrate.  This dessert was later named Umm Ali.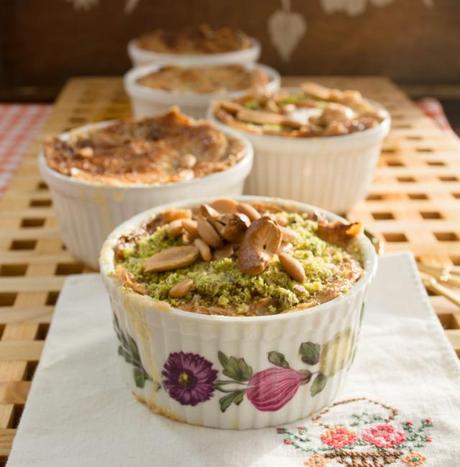 Fast forward to 2013. Ironically Egypt is making the news nowadays, some say it's a coup, others say its a revolution, but the result is one: the president of Egypt was forced to step aside from the presidency, while the people and military take over the power. Am usually the last person to know (or care) about politics, however, ironically on Thursday one of my Egyptian friends who was so happy about this event (is this the right word?) brought dessert to everyone to celebrate.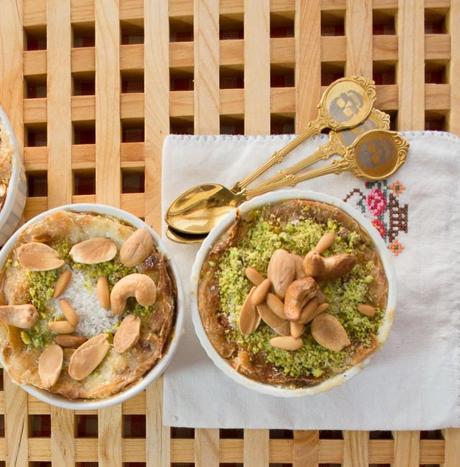 Can you guess what the dessert was?
You guessed right, Ummm Ali. The famous Egyptian bread pudding.
Whether or not my friend had chose this pudding because of the story behind it is beyond me. But all I know is that I enjoyed every single bite that I decided to make some at home this weekend. Luckily this dessert is very easy to make.
Everyone has their own version of Umm Ali, some make it using phyllo dough or croissant, or simply stale bread. Some add coconuts, others don't; you could add any type of nuts, I've even tasted it with toasted peanuts. Bottom line, the recipe can be adapted easily into anything available in the pantry.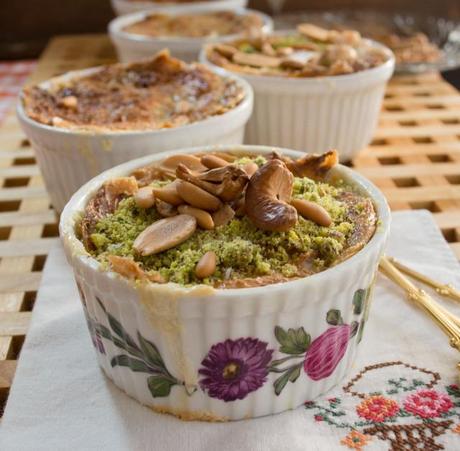 Print Umm Ali Egyptian Dessert
Prep Time: 30 minutes
Cook Time: 30 minutes
Total Time: 60 minutes
Yield: 6 ramekins
Umm Ali Egyptian dessert is a baked bread pudding that is soaked milk and topped with nuts, raisins and coconuts.
Ingredients
3/4 pack (6 small square slices) puff pastry
1 tbsp vegetable oil
1/2 cup (50g) thinly sliced almonds
1/2 cup (50g) sultanas
1/4 cup (25g) pines, raw
1/2 cup (50g) cashew, raw
2 1/2 cup (100g) sugar (you can add more, or less, depending on how sweet you like it or what topping you'll use)
1 tsp cinnamon powder
1/4 tsp nutmeg, grated (optional)
¼ cup (57g)shredded coconut
¼ cup (57g)pistachio powder (optional)
Steps
Thaw the frozen puff pastry in the refrigerator for at least a half hour. Preheat oven to 180C / 350 F / Gas mark 4.
Line the puff pastry on a non stick baking sheet. Brush with oil. Bake in the oven for 15 minutes, or until golden. Remove the puff pastry from the baking sheet, into a wire rack to cool. Place the almonds, pine, and cashews into the baking sheet (no need to clean it). Bake until the nuts are brown (almost 5 minutes). Once done, remove the nuts from the oven, let cool.
Meanwhile, while the puff pastry as cooling, put the whipping cream, sugar, cinnamon and nutmeg (if using) in a medium sauce pan, stir just until the sugar is dissolved. Don't boil, remove from heat when its right below boiling point.
Break the puff pastry into small pieces. Place enough puff pastry in each ramekin to fill it half way. Sprinkle with sultanas, nuts and coconut. Pour some of the whipping cream on it, then fill the ramekins with the rest of the puff pasty. Slowly add the remaining whipping cream to cover the puff pastry. Sprinkle some coconut and nuts (reserve some nuts and coconuts for decoration).
Placed the ramekins on a baking sheet. Bake in the preheated oven for 20 minutes, or until the liquid has been absorbed and the top is golden color.
Cool for 10 minutes before serving. Serve warm, decorate with pistachios, more coconut and nuts.
Notes
To make this recipe vegan, simply substitute the whipping cream for coconut milk or almond milk.
Schema/Recipe SEO Data Markup by ZipList Recipe Plugin2.2http://sukarah.com/2013/07/umm-ali-egyptian-dessert.htmlSukarah | http://sukarah.com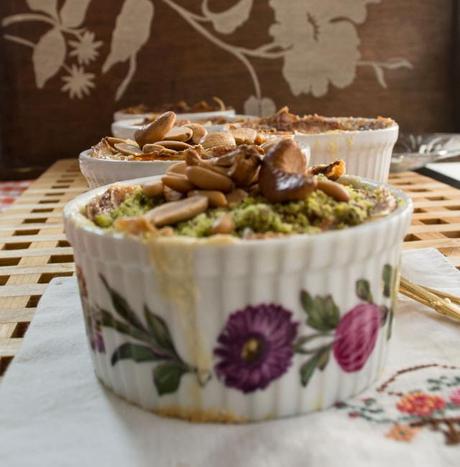 Other serving options include sweetened whipped cream, ice cream, maple syrup, or anything you can imagine, just make sure to serve it while its still warm..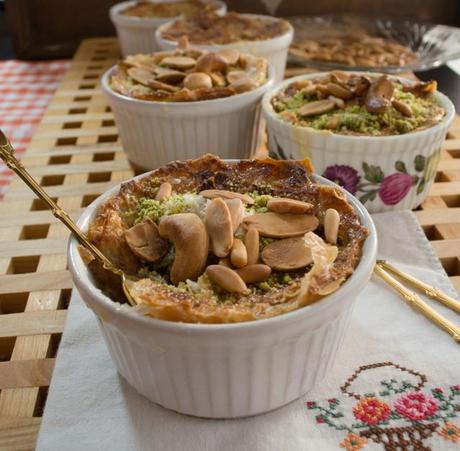 You could also swap the whipping cream in the recipe for some low fat milk, but why on earth would you want to do that?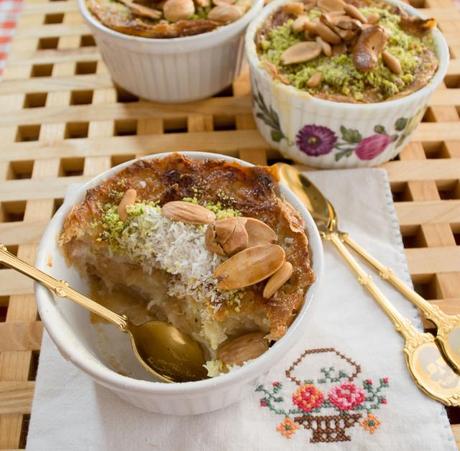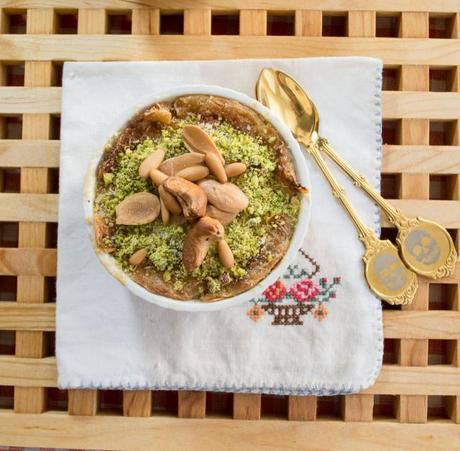 What dessert would you make to celebrate an happy event in your life?
If you enjoy Sukarah's posts, please like us on Facebook, follow us on Twitter, or follow our pins on Pinterset.
Don't forget that to subscribe for Sukarah's RSS feed to receive notification whenever there is a new post.