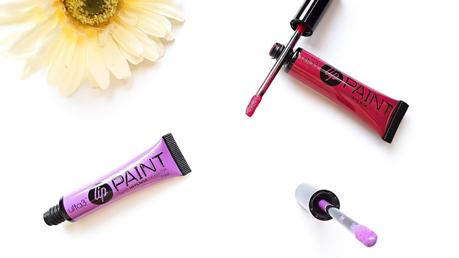 If you live in Australia, you'll know that Ulta3 is most famous for their affordable nail polishes and lipsticks. Not only are they incredibly cheap but they also come in a ton of shades. Being a fan of Ulta3 lipsticks, we were naturally more than happy to review two of their lip paints!
Packaging & Scent:
The lip paints come in a squeezable tube form, with a standard doe-foot applicator.  I find that the squeezable tube really comes in handy when a) you only want a bit of product on the applicator to wear as a pop of color (but don't want the full intensity) or b) when you want to redefine the edges and for general touching up.  Sometimes I prefer using a lip brush instead of the applicator just because I can blend it in more easily and have a thinner layer of product.  
        Upon application, the scent of this really reminded me of mint chocolate lollies due to the peppermint oil in it. I don't know about you, but I actually prefer this scent more than the overpowering floral ones.  For those who aren't a fan of scents in makeup products in general, the scent disappears after a quick while, so you don't need to worry about it lingering.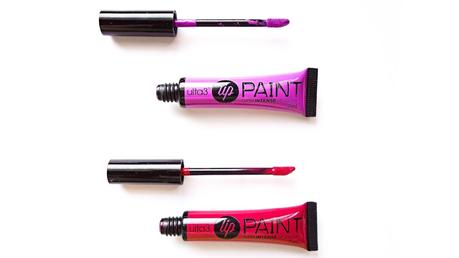 Formulation:
Ulta3 states that the lip paints are "enriched with vitamin E, which moisturises, increases wearability and ensures a refreshing effect, and plumps up your lips." The product is very moisturising and feels lightweight on the lips.  This is something you can apply when you're having a dry lip day but you want to wear that pop of color.  Due to the liquid formulation, it glides over the dry areas and really covers them up.  As you can see in the swatch on the bottom right corner, my lips look a little more plumped due to the shine from the finish.
 
Colour & Mixing
6 "retro" shades were released as a part of this lip paint collection, and we were sent Radical Red and Loud Purple.  Radical Red is a neutral red, making it very wearable for everyone, and Loud Purple is... a bright purple.  This definitely isn't a color that suits me (not sure how many girls can pull off purple) but the closest I can come to describing it is that it resembles the color of Lime Crime Lipsticks packaging :P
        As the purple wasn't my cup of tea on its own and it's such a waste to not use it at all, I decided to mix and play around with the colours to make it more wearable.  Mixing the colours in ratio of 2:1 (red:purple), you can see I got a really lovely, more toned down, magenta shade.  I used my fingers to blend for this one, however the finish on my lips were no where near as nice as if I used the applicator. Regardless, its a sacrifice that I'd be willing to make ;)  In the bottom right, I used more purple and the applicator to blend and the result was a more of a purple fuchsia. As you can see, the idea of mixing makes these lip paints that extra versatile!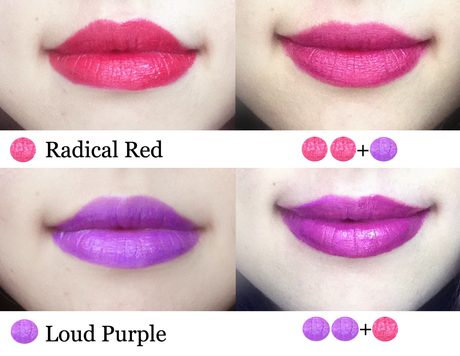 Overall:
The formulation of this makes it good to use, no matter how bad you think your lips are that day. Personally, the price point at $5.95 each makes it suuuuuper cheap- you can really afford to pick up two (or all) colours and then play around with all the color combinations you can achieve.  When swatched on my arms, there was a stain left behind, however my natural lips are pretty pink so I didn't see any actual staining, but if you have a more pale lip naturally, then this might show up on you :).  For those who love the furry animals (who doesn't), these lip paints are NOT tested on animals and is vegan friendly, yay!

Have you tried these Lip Paints before?