Is this banner true? Whether Russia and Ukraine really represent "One people, one story/history" as this social media banner suggests has long been a part of the debate over the fate of Ukraine and her relationship to Russia.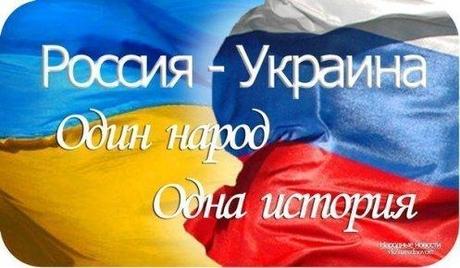 As we write this column we are listening to a fascinating interview on Moscow's Radio Echo with socialite and TV personality Kseniya Sobchak. Until her marriage last February, Sobchak was somewhat of a combination of Paris Hilton meets Madonna when she wasn't marching with the opposition movement against Vladimir Putin, an old family friend of her father who just happened to be Putin's mentor in earlier days. Somehow Sobchak remains in Putin's nominal good graces, even having Christmas dinner with the Putin family when not out marching on the streets.
The interview called our attention to an article that is creating quite a stir. The article was authored by Aleksandr Lebedev, a businessman with interests in both Russia and Ukraine. According to Lebedev, "Ukraine could become a new California if she expels her stagnant past." That is the premise of a recently published article in the Russian language magazine In Pressa in which Lebedev says that the territory and population of Ukraine is comparable with France given that it has a deep rivers, forests, and ice-free seaports.
Lebedev believes that Ukraine's soil is so fertile that it could easily feed two planets like ours, thus apparently his reasoning for titling Ukraine as a potential новая Калифорния (new California). With those comparisons, why he doesn't think of Ukraine as a "new France" would be an interesting question.
He does have a way to bring the subject to the topic at hand in Kyiv. Subject to constant invasions, Ukraine has historically attracted invaders and except for a few years at the end of the First World War has never had the opportunity to develop a truly independent state. Soon after WWI the Bolsheviks succeeded in forcing Ukraine back into the Russian fold.
Kyiv (Kiev) the capital of Ukraine is often considered the birthplace of Russia and the author addresses the question of the Russian Empire as a colonial power in Ukraine and whether Ukrainians are "little Russians" as Russia likes to think or were Ukrainians a separate and distinct people?
As to whether Ukrainians are a distinct people, polls show a variety of opinions and not surprisingly, many Russians regard Ukrainians little brothers, somewhat inferior, but related just the same. Western Ukrainians general self-identify as distinct while Eastern Ukrainians with their strong ties to Russia typically think of themselves are Russian.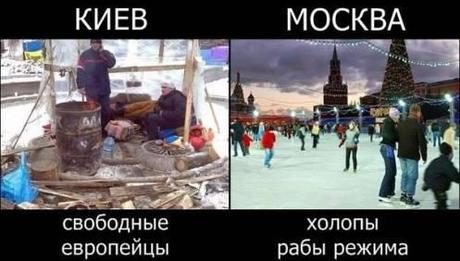 Even the Communist dictator of Belarus, Aleksandr Lukashenko, has decided to weigh in on the issue. The above caption is from Lukashenko's VK page (Russian language social media site) and supposedly shows the plight of "free Europeans" in Kyiv on the left as contrasted with Russia's "slave regime" showing a peaceful scene of Russian citizens happily ice skating on Moscow's Red Square. Lukashenko has aligned Belarus as a member of the Russian Customs (trade/economic) Union.
Today the Prime Minister of Ukraine, Mykola Azarov, met with Russian Prime Minister Dmitry Medvedev and then joined the presidents of Russia, Belarus, Kazakhstan, Kyrgyzstan, and Armenia in Moscow for a meeting to approve the entry of  Kyrgyzstan and Armenia into the Russian Customs Union and the Eurasian Economic Council.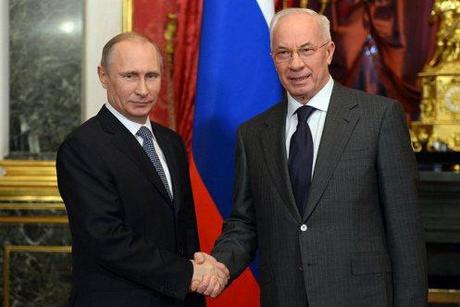 President Putin welcomed Prime Minister Mykola Azarov today to the Kremlin.
Ukrainian Prime Minister Azarov is an outspoken champion for Ukraine to develop closer ties with the country of his birth, Russia.
Meanwhile in Kyiv, Ukrainian President Viktor Yanukovych signed into law the bill for a general amnesty and aimed at preventing prosecution or punishment of individuals in regard to events that took place during recent protests in Ukraine. The law removes liability from protestors from November 21 until the bill comes into effect. Those arrested are to be freed immediately and their police records wiped clean.
Opposition leaders however are concerned that the language of the bill may still give prosecutors license to act as the bill provides amnesty to those involved in peaceful protests and most of the recent rallies has not been that peaceful.
Meanwhile Ukrainian President Viktor Yanukovich addressed the Ukrainian Rada (parliament) today by saying the events of Euromaiden have been driven by the desire for a better life. He defended his rejection of the EU agreement by saying, "the Association Agreement with the EU would have caused economic losses in agriculture, transport mechanical engineering, aircraft manufacturing and other high-tech spheres. If we sign this Agreement under such terms people will not forgive this mistake."