You & Your Wedding came out top in my comparison of UK wedding magazines. With top quality features, shoots and advice for brides (and a nod to grooms!) this would be the wedding magazine I'd buy above all the others.
You & Your Wedding magazine: a review
Issue compared: May / June 2011
Cover price: £4.99
284 pages
24 pages of real weddings
18 pages of advice and feature articles
9 other non-selling pages (contents etc)
81 pages of product ideas
152 pages of advertisements
54% of the magazine pages are ads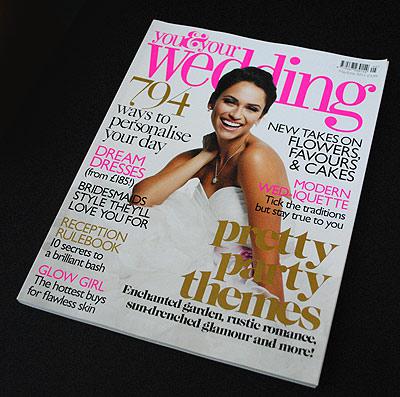 Articles in You & Your Wedding magazine are beautifully written, sensitive and interesting. For example, 'Clamour for Glamour' talked about a bride's decision not to wear make up on her wedding day. It was a really positive piece of writing and
won me over for putting across an alternative opinion
.
Through the magazine advice features with input from Penny Cullen (Tigerlily) and Mark Niemierko kept the inspiring ideas coming – and they were different ideas which appealed to me: creative and imaginative.
Other articles discussed etiquette – not the strict and formal rules but more useful questions about wording invitations and children at weddings.
The article for grooms was a nice story… although I'm not convinced it was actually written for the guys to read – more an entertaining piece for brides!
You & Your Wedding is a magazine with everything: inspiration and advice, articles and real weddings. It's well written, nicely designed and a quality publication. The best UK wedding magazine!