Wedding Ideas is the best handy sized wedding magazine in the UK. Coming out joint second place in my comparison and review of all the UK wedding magazines, Wedding Ideas has an impressive count of real weddings, a healthy advertising ratio (relative to the other wedding magazines) and plenty of advice pages.
Wedding Ideas magazine: a review
Issue compared: June 2011
Cover price: £2.99
338 pages
43 pages of real weddings
27 pages of advice and feature articles
26 other non-selling pages (contents etc)
98 pages of product ideas
144 pages of advertisements
43% of the magazine pages are ads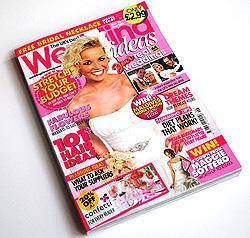 Wedding Ideas did brilliantly in my review of UK wedding magazines. With way more than the average count of real wedding pages, advice and feature pages and one of the highest page counts, this is a mag which has plenty inside.
It's also a very cleverly targeted wedding magazine and focuses on value for money – there are plenty of ideas for brides looking for affordable decorations and themes, and a useful article on 20 ways to stretch your wedding budget.
The articles and features are brief: a feature on diet plans is in quick, easy-to-read snippets, and as with Perfect Wedding magazine this is a publication intended for reading quickly at work, on the bus etc. The 'hair masterclass' feature was mainly pictures – no 'how to', just ideas for wedding hair.
I did like a feature from the girls at Rock My Wedding – their ideas for vintage accessories made for a lovely inspiring read and once again it's nice to see wedding magazines working with bloggers.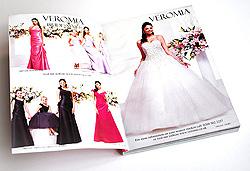 In an earlier blog post about wedding magazines Anne said Wedding Ideas has "a lot of letters about how great the mag is and how much better it is than the rest." Curiosity led me to investigate and yes… the letters published are all full of praise for the mag. To be fair,
it's nice that Wedding Ideas has a letters page
– I'm not sure if any of the other magazines do.
This issue did have some good questions to ask suppliers, a nice one to refer back to. A feature on 'celebrity style receptions' was accurate but funny.
The A-Z on reception styling wasn't to my taste – I'm not a fan of the A-Z and particularly as the first item on the list was Apples. Apps for brides on the other hand was a good read – useful, informative and fun.
Overall Wedding Ideas is a good magazine for brides looking for affordable ideas and a quick, lighthearted read. It's all geared at value for money and there is some good advice in amongst the ideas as well.