Wedding magazine definitely caught my attention with its feature on the top UK wedding bloggers, and has some of the most inspiring bridal shoots as well as being one of the best designed UK wedding magazines overall.
Wedding magazine: a review
Issue compared: June / July 2011
Cover price: £4.90
260 pages
15 pages of real weddings
25 pages of advice and feature articles
13 other non-selling pages (contents etc)
82 pages of product ideas
125 pages of advertisements
48% of the magazine pages are ads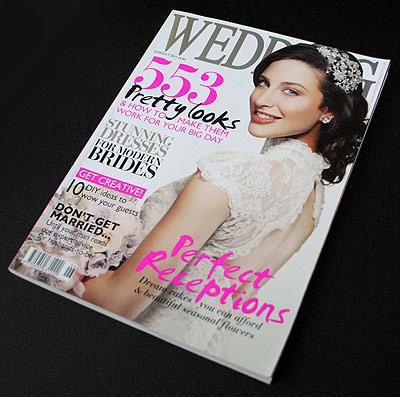 I enjoyed reading 'what every husband should know' – an entertaining extract from a book with some laughs and nice advice too. The UK wedding bloggers article of course was brilliant -
it's great to see the wedding magazines really taking notice of wedding blogs
(and while it's not going to be my thing as I still have this gun pointed at my foot, the idea that we should all work together is a nice one)!
Show Me The Money raised an eyebrow here – a discussion of an ever popular topic: should you ask for money instead of gifts on your wedding day? Wedding magazine sits firmly on the fence and leaves the reader to decide (as it should), but the pros and cons are all here.
The planning section at the back is ok, interestingly with an example wedding budget of £15,487.36 which I thought was quite low compared to some of the other magazines. The dance lessons (?) and videographer's prices were to the penny!
Wedding is very much what you'd expect from a UK wedding magazine: plenty of ideas, some advice, but beautifully presented.