I included a couple of regional wedding magazines in my review of the best UK wedding magazines. I appreciate you won't all be familiar with Cheshire Bride, but most counties have their own publications so this represents them.
Cheshire Bride magazine: a review
Issue compared: 2011 edition
Cover price: £4.50
292 pages
77 pages of real weddings
9 pages of advice and feature articles
7 other non-selling pages (contents etc)
4 pages of product ideas
195 pages of advertisements
67% of the magazine pages are ads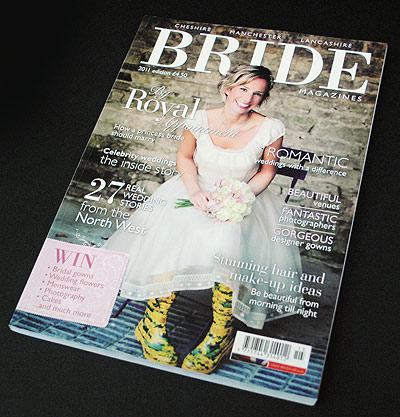 I have to give this regional wedding magazine credit for having so many real weddings: with 77 pages of them this is pretty impressive. It works out at a quarter of the entire magazine pages – the others only have around 10%.
I found it really hard to pick out advertorial in Cheshire Bride magazine – there are a lot of ads and many of these contain advice within the advertisement itself. This isn't a criticism: the adverts offer useful advice and information!
There aren't many articles here to discuss though, as the ad count is so high. There's a royal wedding feature where they suggest dresses for Kate, and I smiled to see Ian Stuart's black Britannica in there! Having said that, the article's written with the readers in mind – would Kate Middleton really have chosen anything other than a completely bespoke wedding gown?
Cheshire Bride is basically two things: advertisements from local suppliers and real weddings. As an annual wedding magazine it's a good reference to have around – but other than the real weddings and to find local suppliers it's not one to turn to for advice.