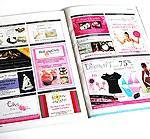 The UK wedding magazine review so far has focused on brides, giving an idea of what's inside each of the best UK wedding magazines. I hope it's been helpful for some of you and will prove useful for future brides and grooms.
Now it's the advertisers' turn. I know a lot of wedding business owners read the blog and you have strong opinions about wedding magazine advertising, based on your own experiences. It's been very interesting reading your tweets, facebook comments and emails so thank you!
UK wedding magazines: advertising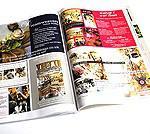 I'm going to provide you with "the science bit" in this blog post. I have my opinions; but this blog post is about the facts – add your own opinions on the English Wedding facebook page or in the comments below.
As a blogger in the industry I really wanted to write positively about wedding magazines. They provide a valuable service to brides – sales figures prove that. Advertisers are a crucial part of wedding magazines, love them or hate them!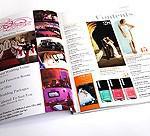 In this blog post I'm going to present
a balanced view of the best UK wedding magazines aimed at giving wedding suppliers the information they need to make advertising decisions
.
Advertising and competition in UK wedding magazines
Click the table below to see my analysis of the top UK wedding magazines. It's interesting from an advertiser's point of view: here's a little food for thought.
the average UK wedding magazine has 264 pages
on average, 139 of these pages carry advertising
that's over half of the magazine
I've counted pages, not individual ads – there were too many to count
Within that lot, it's not going to be easy to get your ad noticed
especially if it's at the back of the magazine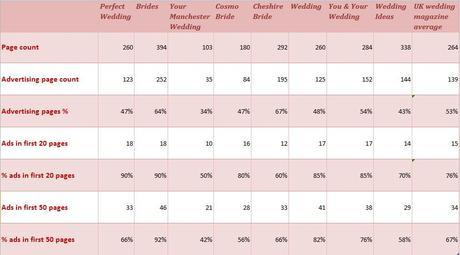 Note: figures are my own counts, based on a single issue of each magazine. Click to enlarge
I find these figures pretty scary to be honest – as a small business with a limited budget for advertising, the last thing I want to do is spend money on an ad that just gets lost in the crowd. I could pay £2,000 for a full page ad and get nothing back.
If you're a small to medium sized wedding business I'm sure that like me you get more than enough calls from wedding magazines asking you to advertise. And I imagine the national magazines will be asking you to advertise at the back of their magazine. Time to ask yourself why. Why there? Because it's cheap? Because it works best for small businesses?
Because they're filling space. Because they're running a profit-making business. Because it's the way the industry works. Because some advertisers don't question the magazines when they quote readership figures – it's pitched as a good idea, so it must be – and it's all too easy to trust an advertising sales rep. I've done it!
Wedding magazine advertising does work – for some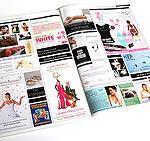 Nevertheless, I've heard positive stories about wedding magazine advertising.
The table above is a warning
: wedding magazine advertising is competitive so if you choose to do it you should make sure you're doing it right. And if you can do it right, success for your wedding business will follow.
One top bridal jewellery designer told me she only advertises in the top UK wedding magazines – it works so well it's all she needs to do. Her advertising strategy is carefully thought out, targeted and visually appealing. Combined with product placement in carefully selected bridal stores, this has made her business a resounding success in recent years.
A photographer who really wasn't a fan of the wedding magazines and never paid to advertise recently told me he'd had several enquiries from a top wedding magazine after placing a wedding photograph within an editorial feature. While previous features hadn't generated any enquiries, this particular image had really captured brides' imaginations – another success story.
You shouldn't write off advertising in wedding magazines, but it's so important to work hard to make sure it works for you.
That's the warning and the success stories covered – now for the "how-to" bit.
Know how to play the game before you start
The most important thing is to do your research on wedding magazine advertising. This isn't something you can do on a whim. You should never sign up to advertise in a wedding magazine just because their salesperson convinces you it will work. This isn't something you can set up in a day if you want it to be a success.
Read Alison Wren's four part advice series Advertising in Wedding Magazines. It's sound advice for any wedding business advertiser and covers:
why you should consider wedding magazine advertising
why it might not be for you
some dos and don'ts
how to research wedding magazine advertising
choosing the right publication and frequency
negotiating the price
designing a successful wedding magazine advert
measuring the results of your ad campaign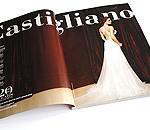 Wedding magazines have been working with advertisers for years and years. While the magazines and their advertising sales teams know their plays like the back of their hands, most wedding businesses aren't so
au fait
with how the process works.
Think back to your most recent sales call from a wedding magazine advertising department. They were very good, weren't they… slick? Really lovely and friendly? Perhaps a professional salesperson rather than someone on the team at the mag? I know the last person to call me about a wedding magazine ad was a born salesman. The very fact they're selling so hard should ring warning bells.
New wedding businesses be warned – you're a top target for the wedding magazines, who are looking for new and inexperienced advertisers in their classified directories. You're an easier target, more likely to say yes if a salesman can convince you that wedding magazine advertising works. What he won't tell you is that most of the time, it doesn't.
Find a magazine that fits your branding and demographic
My review of the best UK wedding magazines gives you a bit of background information on each top wedding mag. Go back to the beginning, read what I've written about the magazines and let it help you decide which fits your target demographic.
The simplest part of this is to identify the magazines which focus on value: Wedding Ideas and Perfect Wedding promote affordable brands while You & Your Wedding, Brides and most others aim for the brides and grooms with big wedding budgets.
You & Your Wedding
Brides magazine
Wedding Ideas
Perfect Wedding
Wedding
Your Manchester Wedding
Cosmopolitan Bride
Cheshire Bride
Spend to be successful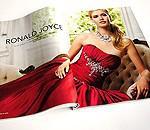 Picture a wedding magazine in your mind. How are the contents organised? Thinking of advertising in particular, what would you expect to see at the beginning of the top UK wedding magazines?
My analysis of UK wedding magazines shows very clearly that the first 20 pages of every magazine have a very high concentration of adverts, and in most cases these are double page spreads advertising bridal designer collections: Ian Stuart, Jenny Packham, Caroline Castigliano… the big brands, and the big advertising spenders. It's unusual to see any other advertisers near the front of most UK wedding magazines – perhaps with the exception of big wedding ring sellers.
At the back of wedding magazines we always have classified directories: pages with multiple small adverts, which are sold by the square inch to smaller wedding businesses. Make no mistake: if you choose to advertise at the back of a wedding magazine it's cheaper for a reason! Ever been to a music festival? Has your idol on stage ever looked directly at you, smiled and winked? Me neither… and it's the same with classified ads in wedding magazines: you're just another face in the crowd – you won't be noticed.
The wedding magazines will tell you otherwise of course, but my advice would be never pay for a classified ad at the back. Won't work.
The exception to this is Wedding Ideas magazine with their features list: take out a classified ad and they'll send you their features list. This way, you get your product within their editorial pages. The ad will do nothing, but use the features opportunities well and these might work for you.
The only way to succeed with wedding magazine advertising is to spend money to get at least half a page and as close to the front of the publication as you possibly can. You're looking at spending around £1,000 – if you don't have the budget for this, then spend your money elsewhere, not in the national wedding magazines.

Consider other wedding advertising or promotion
The wedding magazines aren't the only places to get your business noticed, so if you don't have the budget for a sound advertisement in the press look elsewhere.
Popular wedding blog features from £50 – £200 a time
Wedding fairs from £100 a time
Website improvements from £1,000 for a designer to create a beautiful and optimised website
Social media – if you don't have time yourself look around for someone to write your blog, keep your facebook page buzzing and represent your business on twitter (price probably varies wildly along with expertise)
Online resources for wedding business advertising
There's plenty to be found online to help you prepare a successful advertising campaign, either in UK wedding magazines or elsewhere. Here are some of the best resources you should see first.
English Wedding Marketing Guide
Read my guide to marketing a wedding business – available as a magazine or to read online. If you buy the magazine you get the digital version free
Marketing your wedding business
Wedding Business Success
Spend an hour or so taking notes as you read Alison Wren's website and blog full of practical tips for marketing your wedding business
www.weddingbusinesssuccess.com
Create a stand out wedding magazine advert
Coming up soon – I'll be sharing tips to help you create an outstanding wedding magazine advert. With examples to get your imagination ticking, this will be an aspirational advice feature for wedding advertisers.