I've been poring over wedding magazines for you recently – up to my elbows in wedding dress ads and waking up in the mornings with the handbag-sized mags stuck to my face… terrible habit of reading last thing at night!
Why? Because I have too many preconceptions about wedding magazines and I really wanted to rediscover and reevaluate the wedding mags for myself. Are they really all the same? Are they all old fashioned? Well… no. I'm glad to say I was wrong on those counts.
So this is my very honest, practical, useful wedding magazine review.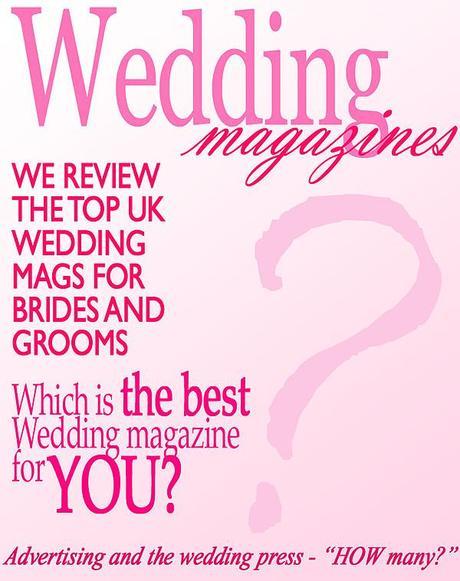 I've compared UK wedding magazines so you – brides, grooms and wedding suppliers – can see how they stand against each other: which have most useful content, most ads, the best advice and the most interesting features.
Having spent a good few days on my little spreadsheet, I'm going to break this wedding magazine review into manageable chunks. This is roughly how it'll pan out – feel free to bookmark this page and come back for the best bits as I post them and link back over the next few days.
UK wedding magazine review: contents
Part one (below) – overview and introduction to the UK wedding magazine review
Part two – the best UK wedding magazines compared in detail and pulling no punches
Part three – the top UK wedding magazines, one by one – what's inside and how do your favourites compare?
Part four – which is the best UK wedding magazine for you? Match your personality to find a wedding mag you'll like
Part five – about advertising: a wedding suppliers' perspective on magazines
Wedding magazine review: overview
I read and reviewed eight UK wedding magazines. Six were national wedding magazines, the best sellers and top brands. Two were local magazines, from Manchester and Cheshire.
Wedding magazines reviewed
You & Your Wedding (May / June 2011 issue)
Perfect Wedding (March 2011)
Brides (March / April 2011)
Cosmopolitan Bride (April / May 2011)
Wedding Ideas (June 2011)
Wedding (June / July 2011)
Your Manchester Wedding (Feb / March 2011)
Cheshire Bride (2011 edition – this is a bit different, being an annual publication)
The average page count across all of these wedding magazines is 264 pages. With an average price of £4.04 that's pretty good value for money!
Most magazines feature lots of real weddings for inspiration. The most in one mag? 77 whole pages of real wedding features. (A whopping 26% of the whole magazine!) You'll have to come back and read the rest of the wedding magazine review to find out which mag has the most real weddings for your money though…
Wedding magazines are well known for having high levels of advertising content. But do you know just how much of these mags are devoted to selling you stuff? On average, it's 77% of pages. When you consider that's just over three-quarters, it's quite a lot of advertising for you, the reader, to wade through.
Interestingly wedding magazines have a lot of pages devoted to ideas for your wedding day: table decorations, dresses, accessories, stationery, wedding themes and more. Where pages are dedicated to showing products (with supplier info and prices alongside) I've counted these as selling pages for the purpose of this review. On average, UK wedding magazines have 65 of these ideas pages – a quarter of the total content.
Some of the wedding magazines have great articles, others promise exciting features and don't quite deliver. Some are just as you'd expect; others go above and beyond. Find out which ones – come back tomorrow for the full UK wedding magazine review on English Wedding.
Can you spot the difference?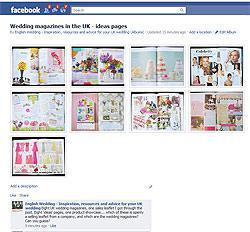 In the meantime, why not play my little game?
The English Wedding facebook page has nine photos of ideas for your wedding. Each is a page spread – one from a sales leaflet that came through my door, eight from wedding magazines. The wedding magazines are selling as hard as the company that posted out their sales leaflet. Can you even tell which is which? Spot the difference…