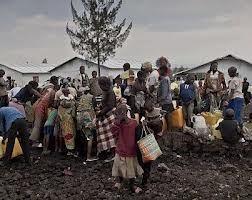 Displaced people in North Kivu – Picture UNHCR
This was somehow expected.
Following compelling evidence of Rwanda's involvement in destabilizing Eastern Congo, UK government has decided to stop £21m of aid payment to that country.
The decision comes a few weeks after the UK Parliament Select Committee for international development heard both Andrew Mitchell, former Secretary of State for the Department for International Development, and Justine Greening, current responsible of that department.
For that particular hearing, the committee had also requested from interested parties and received numerous testimonies of Rwandan damageable interference in the Congolese internal affairs.
Moreover, the final report of the UN Experts on the ongoing situation of crisis which was created by the rebel group M23 came out on November 15, 2012.
The document confirms unequivocally what was already in the public domain: that M23 had been receiving full support from Uganda and Rwanda, these countries supplying equipment, intelligence, and even recruits.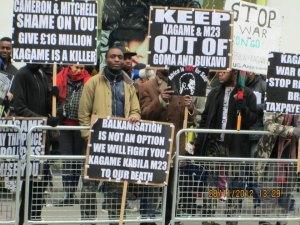 Protest held in London on 28.11.12 against Paul Kagame and M23
But the question which arises with UK stopping aid to Rwanda, as did other donors before them, is the following: does withholding aid to Rwanda improves chances of resolving the Congolese crisis?
In my opinion, the answer is Yes and No.
Yes because Rwanda and Uganda will have now less resources to tap into for their criminal ventures in Eastern Congo.
No because, as desperate dictatorships as they are, the two countries might resort to more risky attempts to achieve their territorial aspirations over Eastern Congo through M23, and become more dangerous trying to prove their detractors wrong.
Background to the UK government's decision: Commons Select International Development Committee Report