This is the second post in my series on wool cloth diaper covers. In this post I will explain the different types of wool covers and how I use them. I also talked to Shauna from
Under the Green Umbrella
(where I get all of my wool) about how she used these, as I don't have one of each...yet! Check out my first post introducing wool covers and their benefits here.
Wrap
The wool wrap looks and acts just like a regular PUL cover. They can be either snap or Velcro. I don't have any of these, but if I did I would use these most often under pants because they are the trimmest option. Below is the Imse Vimse wool diaper wrap.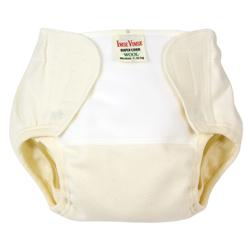 Imse Vimse Wool Diaper Wrap
Soaker
The wool soaker looks just like a pair of wool underwear (to me anyway!). There is elastic around the waist and thigh area. These work great for the summer months by themselves or in the cooler months I put this cover right under pants. They tend to be a little bulkier than a PUL cover but it doesn't bother me at all.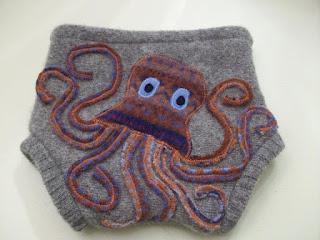 Photo courtesy of Under the Green Umbrella
Shortie
The shortie looks like a soaker but has legs sewn on to make it look like shorts. There is elastic around the waist and shorts part. These are awesome because you can slap a shirt on and go! Nobody will be the wiser that you have your child out in their diaper cover. How cute is this cat shortie?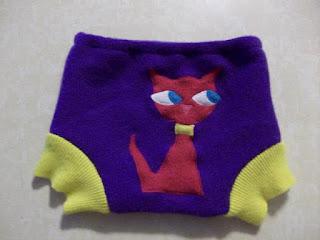 Photo Courtesy of Under the Green Umbrella
Longie
The longie is a cloth diaper cover that is a full length pant. These are great to use for cooler weather and for pajamas. Shauna from
Under the Green Umbrella
descibes why she likes to use longies for pajamas: "I like the fact they're naturally flame retardant because so much sleepwear contains chemicals to keep them flame resistant. Plus of course the leak free aspect - along with being super cozy."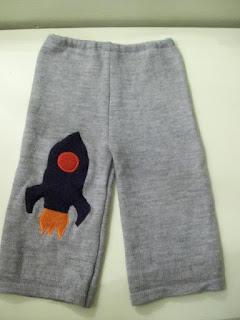 Photo courtesy of Under the Green Umbrella
Skirtie
The skirtie is a soaker with a skirt sewn on top - super cute! If I ever have a girl she will be wearing skirties all Summer long!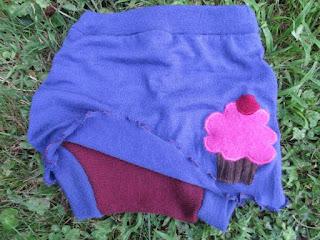 Photo courtesy of Under the Green Umbrella