Last Sunday I went with my daughter and grandchildren to visit the National Trust property, Tyntesfield,  in Somerset.   It is a Victorian House with a garden and large estate,  acquired by the National Trust in 2002.   Don't you just love the fancy ironwork around the roof?  Also if you look carefully at the second photograph, you will see some barley twist chimneys stacks.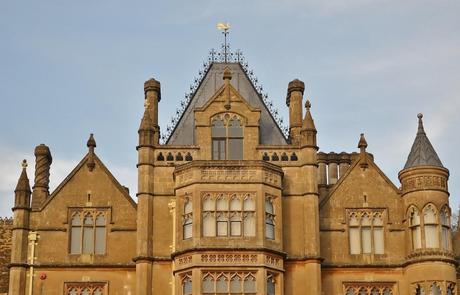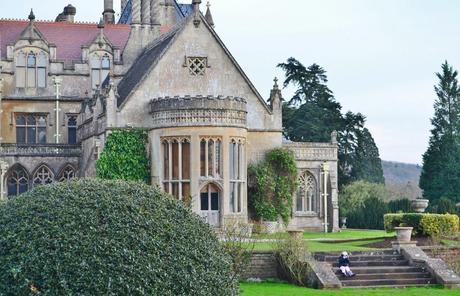 My grandson, aged 5, was there just the week earlier on a school visit and it clearly made a great impression on him.  They dressed up in Victorian clothes and were shown how people lived in Victorian times.  As we walked towards the house, he told me he knew all about Tyntesfield and I was to be very careful not to touch anything!  I heard about how the kitchens worked and how they didn't have toilets.   Unfortunately the last entrance into the house on a Sunday was 2:00pm, we were about 10 minutes too late, so we made our way towards the Kitchen Garden and the Orangery.
Kitchen Gardens always have a magnetic draw for me, I can just feel what it must have been like, growing vegetables and flowers for the big house.  They always have a sense of tranquility about them although they are a busy, important part of the garden.  It's easy to step back in time, because nothing much changes in a vegetable garden, a cabbage is always a cabbage.
Everywhere was covered in scaffolding and it looked more like a building site than a garden.  In fact this is exactly what it is at the moment.   There were two large signs, one said "Dig Deep" and the other was announcing the National Lottery Heritage Fund.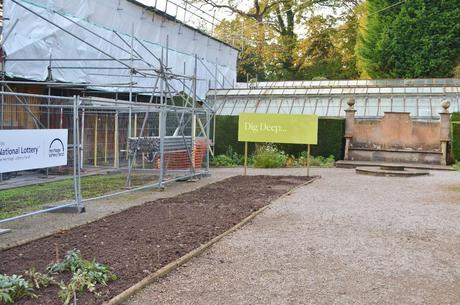 When I started to do a bit of research into this before writing this post, I came across  The Tyntesfield Blog and a post titled "Dig Deep for our Kitchen"  with information about Dig Deep and some interesting photos.
The Kitchen Garden is split into two by a wall, one side is the Cutting Garden, with just a few Rudbeckia, Cosmos and Dahlia holding on steadfastly.
Through the archway and under the scaffolding is the Vegetable Garden.   Most of it was cleared, but there were still some winter vegetables and surprise of surprises, lots of strawberries.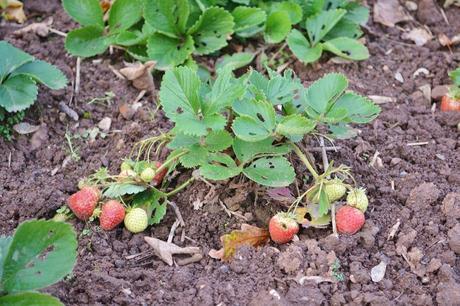 It was getting late, and the light was beginning to fade, which meant that most people had gone home, the Kitchen Garden was empty apart from us.   The square paths around all the beds were just asking for children to be chased around them!
In keeping with every good Kitchen Garden, they grow rhubarb and there are some wonderful old Victorian forcing pots.   I love terracotta rhubarb forcers and if I had an allotment think I would have one, even if I was not going to grow rhubarb, just for an aesthetic look.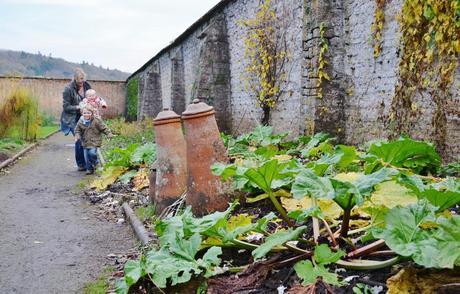 At the other end of the Cutting Garden there is an Orangery that is being rebuilt in partnership with the City of Bath College – more about this in a moment.
Up against the wall there were 'help yourself'  boxes of turnips, radishes, little beets, kale and apples next to an honesty box.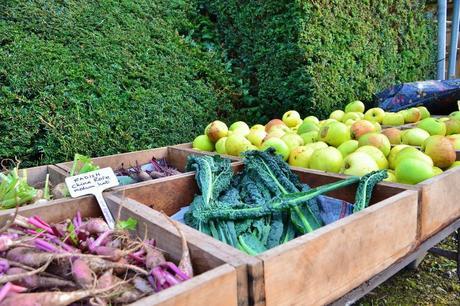 Also there were boxes of dahlia tubers and bulbs. Daughter #1 was busy selecting some very healthy looking tubers for the new garden.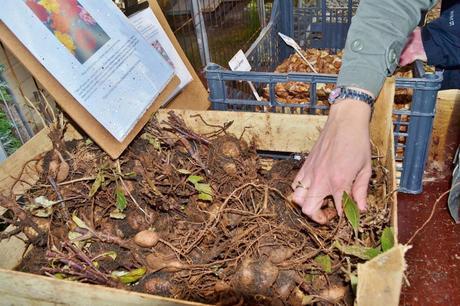 Back to the Orangery… I didn't take any photos of it because it too was covered in scaffolding.   In September they were awarded the English Heritage Angels Award which recognises projects that have saved significant historic buildings.   I have found a fascinating video all about the Angel Awards which I recommend when you have time to take a look  HERE.  It is 7 minutes long and The Orangery is towards the end but you will be able to see what wonderful work is being done on the renovation project.
The house at Tyntesfield is closed for the Winter until March 2012 but the garden and estate  is open all year round.