Yey, it's May tomorrow. To sum up April – it's been MENTAL! I've had a crazy busy month but it's been terrific. I apologize for being a bit linktastic in this post but there's a lot to share.
On the to do list was the creating of an office space at the back of my lounge. Big tick there as this was all done earlier on in the month.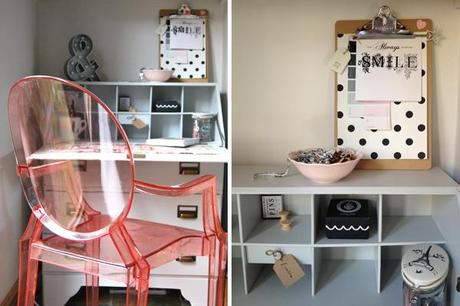 One thing I didn't end up posting about what the DIY for the rather fabulous ampersand marquee style light. Mr C and lovely friend Matt took guidance from the Oh, Hello Friend Tutorial to create this super cute light using Hobbycraft paper mache characters and fairy lights.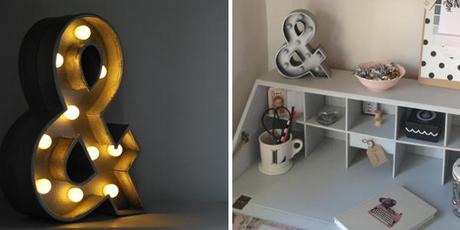 I also posted about my blank wall dilemma and in the end have opted for a gallery wall using various sizes of the same frame. It's going to take a while to collect all the pictures together for this one but as I have a pet hate of empty photo frames I got download happy on the Graphics Fairy site. I also used some beautiful Irene Suchocki prints (a gift from a friend) and even attempted by own stencil watercolour using a very quick tutorial from PS:Heart. Am not too convinced by the final result but it will definitely do until I hunt down another print.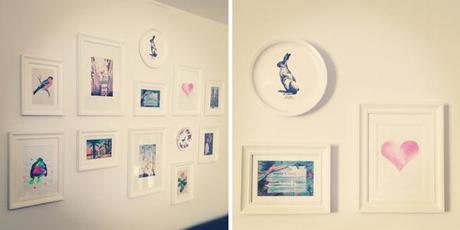 The third job was to find some industrial style stools from the kitchen that weren't going to break the bank. Last week I finally ordered a couple from Interior Addict. They take 10-12 weeks to deliver (seems a little excessive to me) so it'll be July before they make an appearance.
Half way through April I got a call that made me giddy with excitement. I can't share too much right now but hope to be able to fill you in next month. A few things I can say is that it involved a whole heap of pretty, the largest wedding blog in the UK and spending the day with a smashing group of people.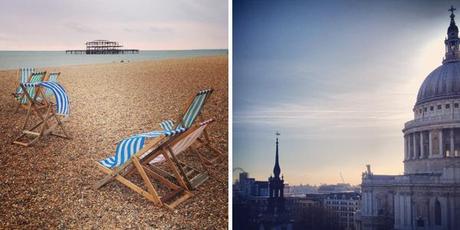 In between all that there's been trips to Brighton and to London, visiting wedding venues with a very dear friend (and all the hen do planning that comes with it

and the most recent project has been all the prep for the upcoming circus party.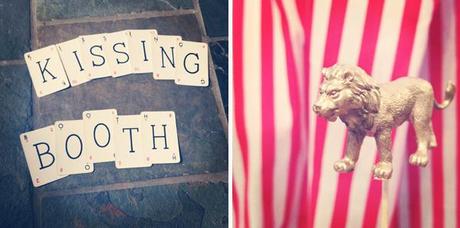 I am so excited for May – this signals the start of the wedding season, birthdays galore and cold glasses of Pinot in the garden. Fingers crossed for a warm one!
How's your April shaped up? Lauren x