I wrote a few weeks ago about my collection of white and grey decorations so today I'm going to take you on a very brief festive house tour.
First up, the lounge. I've been unable to take a decent picture of the
Christmas
tree on my iPhone and so there's just a few peeks in these images.  I've also come to the conclusion that next year I need a whole load more lights to drape across the branches.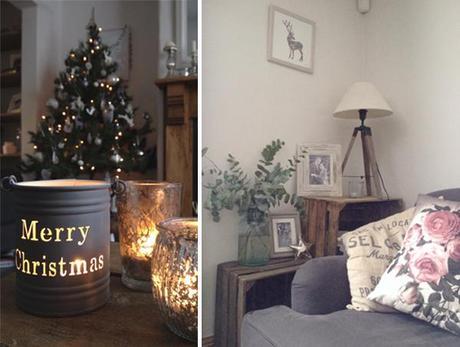 As I imagine most people do, I buy 4 or 5 new baubles and each winter to liven things up a bit. Any hanging trinket that's grey or white is welcome in this scheme with a few sparkly little numbers to get in to a festive mood. I really go to town with the candles at this time of year. I'm pretty sure the 'Happy Christmas grey tin was a from a trip to Chatsworth House, and the rest have been picked up over the years from
The Nest at No.9
, Wilkinsons and more recently Next. I've opted for a large clump of eucalyptus to fill my Sunbury Antiques jar. It smells divine and finishes off this little corner of the lounge well. Back in September, I finally received a new wooden cabinet for the Dining Room. The fairy lights inside will be there all year round but I've added a faux garland from Ikea to envelop across the top. This too is dotted with fairly lights (that somehow seem to change from a soft glow to an crazy dancing mode whenever my back is turned).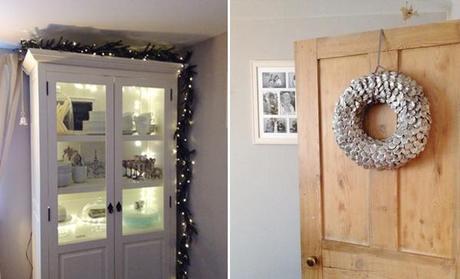 I've also hung a glitter wreath across the door (from HomeSense a few years ago) and a paper star in the window.
On to the kitchen! Those of you who follow me on Instagram will know I have a little tree in here which is perfect for lighting up the very cold mornings. I've also hung a few decorations on the doors to as well as this beautiful bell wreath that looks as thought it's been dipped in cocoa powder!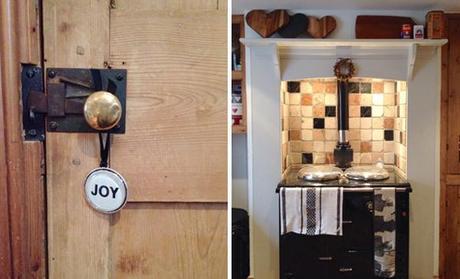 Finally I've also decked out the bathroom with a rather festive glitter ball as well as a few honeycomb balls from Within Reason. I was absolutely gutted to take down last years snowflakes, and with good reason too as they're now a bit too damaged to hang in place.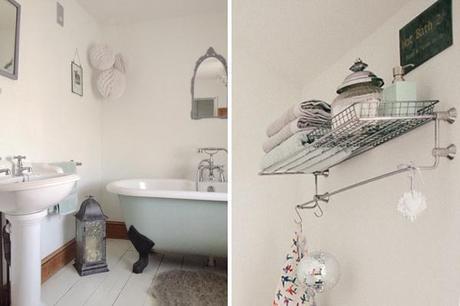 Over the next few days, I'll be bringing in more foliage from the garden to cram into little vases and vessels. I'll also light even more candles and really enjoy the house before the bare and minimal January begins!
Have a great weekend before Christmas.
Lauren x