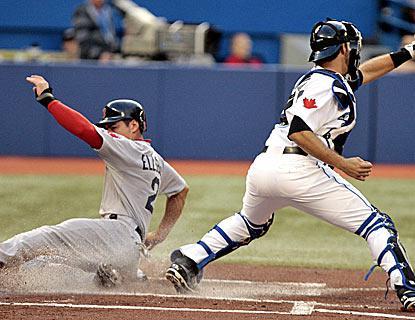 I was thinking yesterday when the extent of Josh Beckett's injury was unknown that is time for the Red Sox to pick it up on offense, and that scoring no runs in 11 innings against games started by rookies had to end.
The Sox sure came out firing last night.
They scored 13 runs on 18 hits in the first 5 innings and coasted to a 14-0 win over Toronto.
The Sox beat the hell out of the Blue Jays earlier this season in a three-game series by a combined score of 30-6. Yesterday's 1-0 shutout sure looked like a aberration.
Marco Scutaro had four hits and three doubles, Adrian Gonzalez had three hits. Josh Reddick and Jarrod Saltalamacchia hit home runs, and every regular except Jacoby Ellsbury drove in a run.
Jon Lester was simply terrific, allowing just three hits and striking out 11 in 7 innings.
And the news on Josh beckett is not nearly as bad as was feared, as he was diagnosed with a sprained ankle, with no internal damage. He will probably miss one start, and will pitch sometime next week.
New York's win in the early hours of this morning over the Orioles keeps the Red Sox at 2 1/2 games back. BTW, how did the umps screw up that obvious fan interference call even after reviewing it in the 7th inning? MLB umpiring continues to be abysmal, even with replay help.