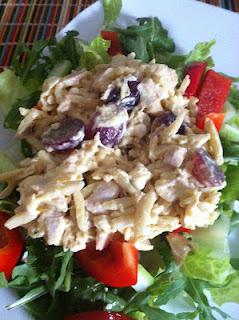 Good Morning!  Happy Tuesday to you!  I made a very tasty dinner last night.  Chicken salad(Chicken, mayo, almonds, grapes, seasonings) on a bed of greens, celery, and peppers.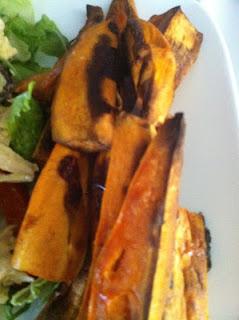 I also sliced and roasted some yams - a savory sweet combo that hit the spot!  Yesterday was a day of cravings for me.  I was craving crap food like; fast food tacos and chocolate.(Welcome to that time of the month!)  This dinner satisfied the salty, savory, sweet combo my body was asking for, but in a MUCH healthier way!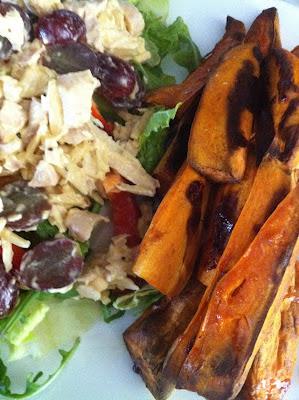 I had a salad for lunch yesterday(not pictured) and hesitated to make another for dinner.  I thought, yikes - two salads in one day?  My next thought was how funny that I would question that.  I have never questioned eating two sandwiches in one day, or two meals with pasta - or potatoes... you get the idea.  So why would I question eating two salads in one day?  Years and years of it not being the norm is why.  I would also argue that culturally it is more typical to have multiple servings of simple carbs with salads being an addition to the meal - not the meal itself. You may see women order a big salad for an entree', but how often do you see men do that?  Why do you think eating vegetables is an exception rather than a rule?  Breakfast was a tasty smoothie!  In the (Vita)mix: 2 cups spinach -1/2cup strawberries - 1/2 cup blueberries -1/2banana -1scoop protein powder -almond milk --- I had a hard time drinking this one slow...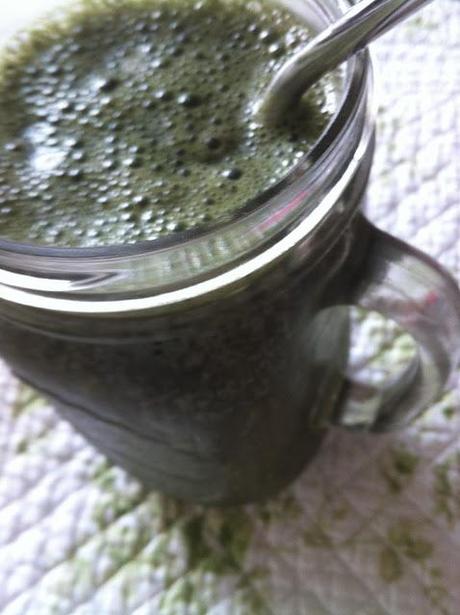 How many salads do you eat in a day?  How can you incorporate more vegetables into your life?