Hey There:
Last week I had a pretty bad summer cold, but still managed to go out on two dates out of three dates I had scheduled.
The first date was with the Indian guy I met the previous week (
Dating Pains
) , I may have been harsh on my "Next!" judgement. I was cranky, it was humid, he was apologetic and he twisted my arm inviting me to
El Camino
(my absolute favorite Mexican Food restaurant). It went well, at the beginning I couldn't talk too much but after having the really nice, hot "Sopa de Fideo" my throat felt better. He really liked the place, we had a nice time....but no, I can't see myself with him at all.
The second date was with a White guy, and for this date I was a little apprehensive. Apparently he really likes me from my pics and in a way it does put pressure on me to live up to his expectations. But I didn't need to worry I looked impressive and the shot of Dayquil helped a lot. We met at Gordon Biersch, both of us had soft drinks, some appetizers and the night ended very well. By the way this is the dress I wore for the date, which is from my favorite designers
Effie's Heart
.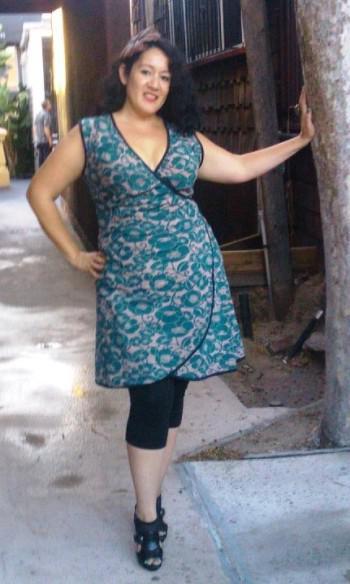 Brighton Reversible Dress by Effie's Heart (Spring/Summer 2011)
We spoke about movies, 80's music, social media, family. I have to admit, he did begin the conversation with "So, what do you do for fun?" but I ignored the awful question by commenting on the menu and we moved on from there. OK, I'm going to say something that will shock people who know me and know how Seinfeld-like/shallow I am. I don't see anything wrong with this guy. There, I said it! We're planning another date in a few days.
The third date that never happened was supposed to be at the nighttime zoo, everything seemed almost settled, but I never heard from the guy. So this is my second try, it's starting to look like I'll have to go to the zoo by myself.