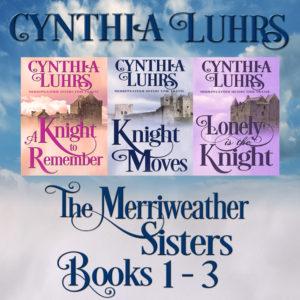 Book 1: A Knight to Remember
Fall through time...
Be careful what you wish for...
The audiobook set for the first three books in the medieval time travel romance series readers call addictive is now available: A Knight to Remember, Knight Moves, and Lonely is the Knight, offered in one audiobook.
Book 2: Knight Moves
Lose yourself in time...
Be careful when you go searching for answers...
Lucy Merriweather's supposedly perfect boyfriend attempted to murder her during a visit to Blackford Castle. Falling through time to 1300s medieval England, she lands in a tangled heap at the feet of a tarnished grumpy knight with secrets of his own and no time to spare for a crazy damsel in distress.
Melinda Merriweather's sister vanished on a trip to England. When someone tries to kill Melinda Merriweather, she knows there's more to the story of her missing sister. Determined to find out what happened, Melinda lands in England only to get more than she bargained for.
Book 3: Lonely is the Knight
Travel through time...
Beware ghosts trying to help...
A picture she can't explain. A wrong turn leading to Falconburg Castle and a whopper of a storm. Falling through time to 1300s medieval England, she finds herself staring at the pointy end of a wicked looking sharp sword. A weary scarred knight swoops in and rescues Melinda only to find out she's no swooning damsel in distress. Now Melinda's greatest fear is falling in love and never finding out what happened to her sister.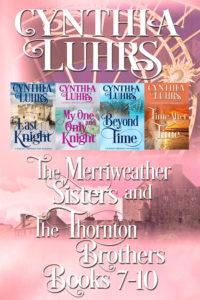 Haven't finished catching up on the series yet? Now you can grab books 7-10! There's only one book left in the series...The Knight Before Christmas will be out in October. Get caught up today!
Book 7: Last Knight
Stuck in medieval England with no cell service...
Charlotte Merriweather didn't plan to steal the gorgeous low-slung sports car. But in her defense it was just sitting there running, with the door open, beckoning her. A terrible accident sends her traveling through time to 1330 England. Surely the handsome knight of the castle will aid her in the search to find her missing sisters? Henry Thornton has sworn never to marry. Even if he is enchanted by the odd woman he finds washed up on the shores of Ravenskirk Castle. He'll help her and send the lady on her way. Or not. As the castle falls under siege trapping Charlotte and Henry within the stone walls will they risk it all for a chance at a love meant to last forever?
Read books seven through ten in the clean light-hearted medieval time travel romance series readers call addictive: Last Knight, My One and Only Knight, Beyond Time, and Time After Time, in this special offering.
Book 8: My One and Only Knight
Christian Thornton keeps losing his betrothed. The ladies have heard a terrible rumor and flee so the last thing he needs is a vexing future girl showing up at Winterforth.
Book 9: Beyond Time
What happens when a 14th century Scottish hunk ends up in the 21st century? Would you believe his story?
Ashley is high-strung, stressed out, and lost without her ever present phone. The thought of being disconnected makes her break out in hives. For someone who always needs to know what time it is, waking up in medieval England just won't do.
Book 10: Time After Time
In MY ONE AND ONLY KNIGHT Penelope finds a strangely dressed man washed up on the beach. Thomas was stolen from his home, duty and responsibility to find himself in an unfamiliar time and place. Find out what happened before the MERRIWEATHER SISTERS came to live with Aunt Pittypat.
Buy Links:
Google Play
Series Reading Order:
Knights Through Time Travel Romances
When Mellie Evers is dumped on social media she decides to put her imagination to good use. And with the big family reunion rolling around, there's no time like the present. Mellie tells everyone about her new boyfriend. He's perfect, charming, Scottish...and fake. Well, he's based a little too closely on a certain Scottish hottie but that guy? He's a thief and claimed to be from...the 14th century and she kind of played a big part in getting him sent away. When he appears at the museum again, Mellie tells him she'll help him out if he'll pretend to be her fake boyfriend for the big reunion. Only Mellie doesn't know Connor isn't lying, he really is from the 14th century...and this time, he's keeping that secret to himself.
In TIME AFTER TIME, Mildred Merriweather wasn't always the cranky spinster aunt. She used to be carefree and full of life...until one fateful summer changed everything, long before the MERRIWEATHER SISTERS came to live with her sister. Sit down and curl up with the prim and proper Merriweather aunt and find out what heart-wrenching secret she's been hiding...
Book 1: A Knight to Remember
Book 2: Knight Moves
Book 3: Lonely is the Knight
Book 4: Darkest Knight
Book 5: Forever Knight
Book 6: First Knight
Book 7: Last Knight
Book 8: My One and Only Knight
Book 9: Beyond Time
Book 10: Time After Time
Book 11: A Moonlit Knight
Book 12: The Knight Before Christmas (the final book in the series, coming October.)