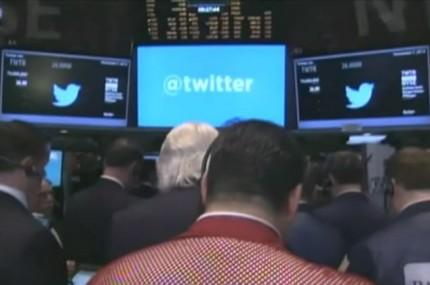 Twitter shares closed at $44.90, up more than 73% from their initial price of $26 each.
That means after its first day as a public company, Twitter, the micro-blogging site, is now valued at a little over $31bn (£19bn).
More than 13 million shares were traded once they became available an hour after the New York Stock Exchange opened. It is the biggest technology listing since Facebook in 2012.
Twitter floated on the NYSE and not, as some initially expected, the technology-rich Nasdaq exchange, where the likes of Facebook are listed.
It was a big win for the NYSE, which decorated its exterior with banners promoting the offering on Thursday.
Twitter has more than 230 million users, but is yet to make a profit.
Twitter Shares Rollercoaster Ride
Shares in newly-listed companies are often volatile on their first day of trading.
Within minutes, Twitter's stock price soared more than 80% before closing just below its initial opening price of $45.10 per share.
When Facebook launched on Nasdaq, its shares were priced initially at $38 each. The stock soared within hours of its debut to a high of $45. But its price later slumped.
It only recovered those losses by 11 September 2013, when shares again touched $45. Its initial public offering (IPO) was also marred by technological glitches and delays.
To prevent Twitter's stock sale from having a similar fate, the NYSE ran tests on 26 October using larger-than-normal share volumes.
Financial Scrutiny
Twitter is selling 70 million shares, which will raise more than $1.82bn.
The company, which invites users to send tweets in 140 characters or less, has 232 million active users. According to its IPO documents, these users send 500 million tweets a day.
Twitter's financials have been under greater scrutiny since it announced its plan to float, especially given that the company is still loss-making.
It lost $69m in the first six months of 2013, on revenues of $254m. About 85% of revenues come from advertising on its site, and more than 75% of Twitter users access the site from their mobile phone.
Mary Jo White, head of US regulator the Securities and Exchange Commission, recently warned investors to be cautious of the metrics used by technology companies like Twitter, noting that investors have become overwhelmed by the sheer magnitude of data.
"In the absence of a clear description, it can be hard not to think that these big numbers will inevitably translate into big profits for the company," she said in a speech. "But the connection may not necessarily be there."
Big Windfall