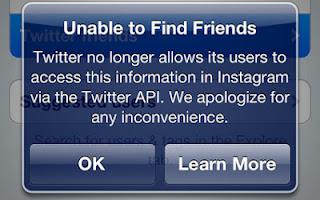 Instagram
has just announced the achievement of 80 million users. But recently the problem has also appeared on the application. Features '
Find Friends
' use of social networking
Twitter
could not be
accessed
.
In the description of the error is displayed that Twitter no longer allow users to access information via Twitter from Twitter API Instagram. However, the feature 'Tweet Photo' is still running normally.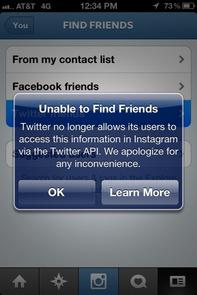 Error message appears on the application Instagram for IOS, whereas when we try Instagram version of Android, the feature is still going well.
This is probably due to Twitter API restrictions. According to reports in circulation, traffic access requests Instagram so high that Twitter decided to stop the API to access this feature.
origin source TechCrunch via teknoup