September market stats are in, and show the Twin Cities housing market is continuing on its recovery path. There is an infographic floating around that shows that national housing values have bounced back about one-third since the crash that started five years ago. Of course all real estate is local, and I love the graphic below from local 10k Research that helps visualize the peaks in 2006-2007 before the steep slide down... to the temporary mini recovery during the federal housing tax credits... to bottoming out in 2011 followed by steady improvement marked by 15 straight months of year-over-year sales gains. According to this, we have bounced back about 20% since the peak in 2007.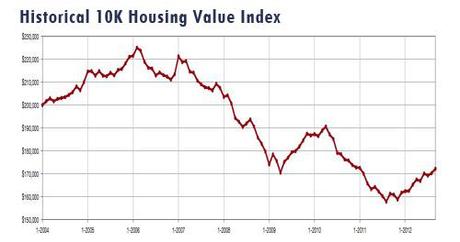 Median sale price was $174,000 in September 2012, 12.3% above last year at this time as well as above 2009 and 2010... following traditional seasonal trends.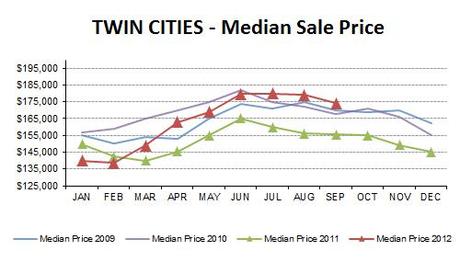 Number of days on market before sale continues its dramataic downward plunge, at 100 days in September. That's about a 40% drop from 160 days at the beginning of last year... a reduction in market time of 2 months!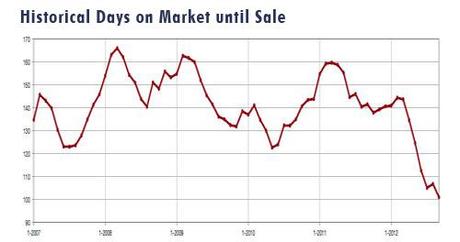 A big reason for the drop in market time is housing supply, which is at the lowest level in records going back to 2004... down 29.4% from last September.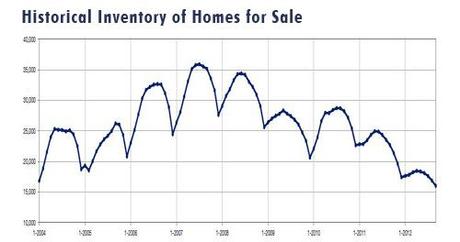 Closed sales dropped in September compared to August, but were still 4.3% ahead of last September. We are moving into cold weather mode where our real estate market always slows down. Pending sales were up 11% compared to last year so we shouldn't be seeing sales plunging, also influenced by timing between sales pending and closing.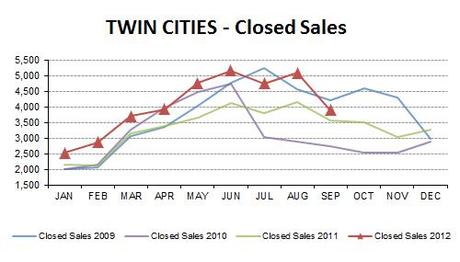 Another big influence on sales is the supply of homes available for sale... buyers may be ready, but won't buy if they can't find a home! Months supply of inventory has dropped again and is now at 4.0 months... officially a buyer's market!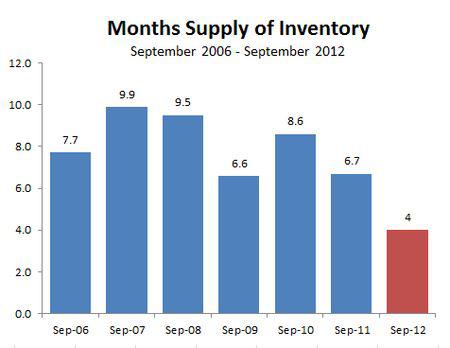 The figures above are based on statistics for the combined 13-county Twin Cities metropolitan area released by the Minneapolis Area Association of Realtors. NOTE: The housing value index in the first graphic above employs a multi-variate, linear regression methodology to determine specific weights that adjust for both seasonality and segment bias to arrive at a real, constant-quality view of home values. The index is set to median sales price in January 2003.
Never forget that all real estate is local and what is happening in your neighborhood may be very different from the overall metro area.
Click here for local reports on 350+ metro area communities
Click here for current interactive market analytics by area, city, county, neighborhood or zip code
Sharlene Hensrud, RE/MAX Results - Email - Minneapolis - St. Paul Real Estate Market